Top 10 Significant Indian People
Suggested by SMS
In a country of a billion mortals and a five-thousand-year-old human civilization, it is not only difficult to choose the top 10, it is simply impossible. Here, we have tried to do the most difficult job in the world, but we sincerely feel a thousand more names could have qualified for these top 10 spots. We are sure that our selection would derive a lot of criticism, but we sincerely feel that this "Top 10 list" would represent the sentiments of most Indians. We have selected personalities who represent a diverse field of activities like religion, politics, entertainment, sports, science, society and others. Our list of top 10 Indians would surely reflect the image of a world within a country named India.
10. Sachin Tendulkar (born April 24, 1973)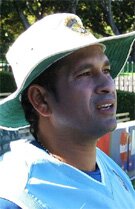 The famous Indian cricketer Sachin Ramesh Tendulkar holds the record for scoring the highest collective runs in One Day International series and Test cricket. He started his cricket career in 1988 at the young age of 15 scoring a 100 not-out debut for Mumbai against Gujarat. He scored unbeaten centuries in all the three series of Ranji Trophy, Duleep Trophy and Irani Trophy debuts. His international debut was against Pakistan in 1989 as the youngest Indian test player.
The years following 1990 were the golden period for this Little Master. He established his stand as a top-class batsman through his unbeaten 148 in Sydney in 1991-92 and the 1990 tour to England. His first ODI century came in 1994 against Australia in Colombo. His unique contribution of an unbeatable century-scoring partnership with Navjot Singh Sidhu was crucial for winning the match against Pakistan in Sharjah.
His single-handed performance at the World Cup 1996 and the ICC series against Australia in 1998 were spectacular. He qualified himself as not only a reliable batsman but a good slow bowler as well when he took the precious wickets of Michael Bevan, Steve Waugh, Darren Lehmann, Tom Moody and Damien Martyn.
His rise to the Indian captaincy in 1996 was almost inevitable. He served two terms as a captain though without the phenomenal success that was expected of him. However, he always remained central to team India's strategic processes even when not a captain himself. His prolific batting style has earned a large fan following even from cricket stalwarts like Sir Donald Bradman, who had said, "He reminds me of myself".
Tendulkar has won prestigious honors like the Rajiv Gandhi Khel Ratna in 1997-98 and Padma Shri in 1999. Currently, he was hailed as the captain of the Mumbai Indians at the Indian Premier League Twenty20 competition in 2008. No doubt, he is one of the most worshipped cricketers of the world living amid unnatural craze in India. His ambidextrous skills have earned him the comment "most wholesome batsman of his time."
9. Satyajit Ray (May 2, 1921- April 23, 1992)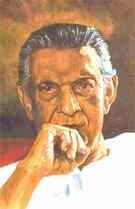 Born to writer Sukumar Ray and Suprabha Ray in a prominent Bengali family of Calcutta, the 6′-4″ tall Satyajit Ray became one of the pathfinders for Indian cinema. He studied at Presidency College and later moved to Shantiniketan for studying fine arts. He worked as a commercial artist during 1943-56 at an advertising agency before founding Calcutta's first film society in 1947. His first film was Pather Panchali that won the Grand Prix award at the Cannes Festival.
Ray undertook the scripting, casting, cinematography, editing and art direction. Ray made a number of maverick features like Jalsaghar (1958), Ashani Sanket (1973), Charulata (1964), Ganashatru (1989) and Agantuk (1990). Besides being a filmmaker with 37 films to his record, Ray was also the famous author of a number of children's storybooks and magazines like Sandesh.
The subject matter of his stories ranges from detectives to fantasies, adventures, science fiction and horror. Each of the stories is unique and original, with pure entertainment infused in the text. Ray cinematized a major body of these stories and made successful feature films like Sonar Kella, Joi Baba Felunath, Hirak Rajar Deshe and Shakha Proshakha. Unlike the general realistic portrayal of his serious features, these films were fantasies come alive.
Ray was recognized as the Bengali renaissance man and received numerous awards and honorary doctorates. He was awarded 32 National Awards, the Dadasaheb Phalke Award and Oscar in 1992 for Lifetime Achievement from the Academy of Motion Picture Arts and Sciences. In 1992, he was posthumously awarded the Akiro Kurosawa Award for Lifetime Achievement in Directing at the San Francisco International Film Festival. Film critic Michael Sragow recognized him as the most sublime moviemaker to come into being since Renoir and De Sica.
8. Akbar the Great (October 15, 1542 – October 27, 1605)

The greatest Mughal Emperor was Jalaluddin Muhammad Akbar was born to the 2nd Mughal emperor Humayun and his wife Hamida Bano in Umerkot, Sindh when they were chased out by Sher Shah Suri. Being raised in Afghanistan, he grew up among rough sports and remained illiterate. However, he had a thirst for knowledge and gathered knowledge by making his courtiers read out the books of his library to him.
After Humayun recaptured Delhi in 1555, he did not live long to enjoy his kingdom. A young Akbar ascended the throne in a warlike atmosphere. His earliest military victories were against Sikandar Shah Suri at Mankot and Hemu at Panipat. Akbar understood the importance of religious tolerance early and withdrew the religious tax 'Jaziya' from the non-Muslims.
He bonded with the Hindu Rajputs by establishing matrimonial alliances with Rajput princesses. Soon, the regions of Malwa, Gujarat, Bengal, Kabul, Kashmir and Kandesh came under his rule. Akbar became popular among his subjects not only for being a conqueror but his humane treatment as well.
His court included both Muslim and Hindu officials. As an instance of his religious tolerance, he established the Ibadat Khana building where healthy religious debates were organized among people of various religions. His Din-i-Ilahi faith was meant to bridge religious differences among the masses by synthesizing the essences of all religions into a single one.
Akbar was a great patron of men of music, literature and fine arts; his court was bedecked with the Navaratna or the nine jewels including Abul Fazel, Faizi Fazel, Mian Tansen, Birbal, Raja Man Singh, Raja Todar Mal, Abdul Rahim Khan-I-Khana, Fakir Aziao-Din and Mullah Do Piaza.
Akbar tried to gain an insight into the market conditions and took basic steps to standardize the quality of different commodities and their prices. We find an elaborate account of his achievements in his biography Akbar-Nameh. It is sad that he had to face the rebellion of his son Salim in his matured years.
Akbar's concept of the wahdat-al wujud (unity of the real) was a farsighted one. Though Din-i-Ilahi (the religion he founded) was not endorsed by many, it showed that the only way to unite India was by practicing religious tolerance. If the principles of Akbar are embraced today, problems of religious riots and communalism may cease.
7. Mother Teresa (August 26, 1910- 5 September 1997)

Mother Teresa was born Agnes Gonxha Bojaxhiu in Macedonia. She received the 1979 Nobel Peace Prize for her lifetime work with the poor around the world. In the age of 12, she was inspired by the divine call of serving mankind and joined an Irish religious order called Sisters of Loreto in 1928 that had missions in India.
Under the missionary name of Teresa, she arrived in Calcutta to adopt a teaching career in St. Mary's High School and took an Indian citizenship. In 1948, she acquired the permission of the Catholic Church to quit her order and devote her life for serving the slum-dwellers and city poor. On October 7, 1950, the Holy See granted her permission to start he own religious order called the Missionaries of Charity.
In 1965, Pope Paul VI decreed it as an International Religious Family. Initially it had only 13 members in its Calcutta branch and provided valuable service to the blind, the lepers, the disabled and homeless. Today its various branches throughout India and world over have engaged more than 4000 nuns for providing support to orphans, victims of flood, AIDS inflicted people, aged, alcoholics and refugees.
Mother Teresa's extensive services for the poor and homeless won her not only the Noble Prize but also other prestigious recognitions. The 1971 Pope John XXIII Peace Prize, Jawaharlal Nehru Award for International Understanding (1972), the Balzan Prize (1979), the Templeton and Magsaysay awards are some of these.
Mother Teresa also opened a number of other charity homes. The Kalighat Home for the Dying named Nirmal Hriday (Pure Heart), a home for lepers called Shanti Nagar (City of Peace) and a home for lost and street children named Nirmala Shishu Bhavan (the Children's Home of the Immaculate Heart) are among the most notable ones.
Mother Teresa has left behind a legacy of the ideal way to serve humanity selflessly. In the modern age of restlessness and faithlessness, hers is an instance of complete reliance of Divine Providence. She received the appreciation of the Indian Prime Minister for her works and the beatified title "Blessed" was bestowed upon her by the Vatican City in recognition of her persona.
6. C V Raman (November 7, 1888- November 21, 1970)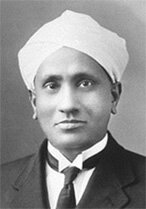 The full name of this Indian Nobel Laureate in Physics was Chandrasekhara Venkata Raman. He was the son of Chandrasekhar Iyer and Parvathi Amma and born in Tiruchirapalli, Tamil Nadu. His talents were well nurtured in the academic atmosphere at his home since his father was a lecturer in Mathematics and Physics. He completed his graduation from Presidency College, Madras in 1904 acquiring the first place and the gold medal in Physics. He did his Masters in 1907 again securing the top rank.
He started researching in optics and acoustics and later founded innovative theories on the scattering of light. Raman took up a job in the Indian Finance Department in 1907 and used his free time to do experimental research in the laboratory of the Indian Association for the Cultivation of Science at Calcutta. He accepted the Palit Chair of Physics at Calcutta University in 1917.
Among the other significant posts held by C.V Raman were the Honorary Secretary of the Indian Association for the Cultivation of Science, Professor at the Indian Institute of Science at Bangalore, President of the Current Science Association, Bangalore, the Editor of the Indian Journal of Physics and the Director of the Raman Institute of Research at Bangalore.
The phenomenon that won him the Nobel Prize for Physics in 1930 was called 'The Raman Effect'. This had to do with molecular diffraction of light Raman wrote several books and magazine articles on maintenance of vibration and feeble fluorescence. He studied the diffraction of light by acoustic waves of ultrasonic and hypersonic frequencies and the spectroscopic behavior of crystals under the impact of X-Rays.
The discoveries by Raman brought him a series of international accolades apart from the Nobel. The Lenin Peace Prize in 1957 and Bharat Ratna were the most prominent ones. The far-reaching significance of the Raman Effect "opened a view of research which has almost paralleled the early history of work in X-rays and radio activity." It was named International Historic Chemical Landmark in Calcutta, India, on December 15, 1998. Raman dedicated the entire prize money for continuing research work in Science.
5. Swami Vivekananda (12 January 1863- 4 July 1902)

The pre-monastic name of Swami Vivekananda was Narendra Nath Datta and he was born in a prosperous Bengali family in Eastern India. His father was a reputed attorney named Vishwanath Datta and his mother was Bhuvaneshwari Devi. From his very childhood, Narendra was an intelligent boy with a keen interest in academics, music, gymnastics and divinity. He studied Western Philosophy while graduating from Calcutta University and went on to be associated with the Brahmo Movement for a short time.
His search for God led him to meet Sri Ramakrishna Paramahamsa, the priest of Dakshineswar Kali temple who instilled in him a deep devotion for the Ultimate Truth and transformed him into Swami Vivekananda. Prompted by a pure love for his country and fellowmen, Vivekananda took several tours of India.
He witnessed the hungry and oppressed masses leading a life without progress and hope. He recognized the need for providing them with the bare necessities of life first and then infusing a life-giving message for rejuvenating their faith in the ancient Hindu philosophy. He spread the Vedantic message of unity of God and Atma (soul) and inspired the Indian youths with national consciousness to serve their fellow countrymen.
The unique contribution of Swami Vivekananda in re-establishing a national faith came to the limelight when he went to participate in the 1893 Parliament of Religions of Chicago. He was among the few to represent India at an international platform and his speech opened new vistas of understanding of religion in a scientific light.
Vivekananda remained in America with the mission of spreading the humanistic teachings of the Vedanta philosophy, interpreting India's spiritual culture and reaching out to every single American through his deep spiritual insight, eloquent and brilliant religious speeches and broad human sympathy.
He came back to India and among the many significant reform works he did, the foundation of the Ramakrishna Mission in May 1, 1897 was a major one. The Mission situated at Belur Math served the entire nation through its healthcare, rural management, disaster relief, elementary and higher education promoting activities. He was the one who
saw the need of education in building the true foundations of a modern civilized, poverty-free India.
With time, Ram Krishna Mission's 166 branches spread all over India. Today it has its own health centers, orphanages and schools, all functioning under the motto 'Atmano Mokshartham Jagad-hitaya Cha' (For one's own salvation and for the good of the world). Among his most relevant Hindu philosophic treatises, the ever-expanding Mission is perhaps the greatest legacy of Swami Vivekananda. William James has rightly called him "the paragon of Vedantists" and in his own words, Vivekananda was an example of "condensed India".
4. Rabindranath Tagore (7 May 1861- 7 August 1941)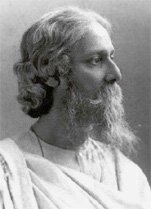 Rabindranath Tagore was the youngest child of an affluent Brahmin family of Calcutta. His father was the illustrious Brahmo leader Maharshi Debendranath Tagore. He went to England in 1878 to study law but returned soon to become a great poet, songwriter, playwright, educator and philosopher. His initial home-based education enriched him adequately to inspire him to contribute articles in small newspapers and magazines.
He came into his literary prime gradually through the years of his youth, though he was not known as a prominent figure outside India until 1912 when he went to England with his son. At the age of 51, he started translating his volume of poetic works 'Geetanjali' into English. His works filled with Oriental mysticism and romanticism came to the notice of poet W.B. Yeats through his painter friend Rothenstein. His tryst with glory continued as he received the Nobel Prize for literature in 1913. He was the first non-westerner to be so honored. Shortly after, in 1915 the British King George V knighted him, but he refused it to protest the mass killings of Jalianwallabagh by the Britishers
His achievements in India were no less in greatness. He founded a new method of education outside the confines of the walls and followed it closely in his own educational institution Visva Bharati in Shantiniketan. He brought out the best of the Hindu systems of education and the Western ideals. He was the one to give India its national anthem post independence and propagate a deeper significance of Holi, the festival of colors.
Although Tagore never participated in active politics, he was a close friend of Mahatma Gandhi and shared his nationalistic ideals. During the partition of Bengal in 1905, he launched a public protest through the "Rakhi Bandhan" (tying of the string of brotherhood). This ceremony was a means to promote feelings of fraternal love among everyone to keep the spirit of undivided Bengal alive.
The system of Upanishadic education promoted by Tagore is relevant in the modern context when people need to turn back to the beauty of nature to an ashramic mode of life for appreciating the finer sensibilities of life. Commenting on Tagore's lasting literary significance, Yeats said, "We are not moved because of its strangeness, but because we have met our own image". Admiring Tagore the renaissance sensation poet, Paul Artist said, "I would read Geetanjali as I would read the Bible for comfort and for strength".
3. Ashoka the Great (304 BCE- 232 BCE)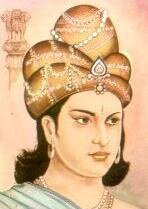 Ashoka, the famous Mauryan emperor was the first to establish a pan-Indian empire in the 40 years of his rule and he is counted amongst the greatest rulers of the world. His empire extended from the Pakistan-Afghanistan border in the west to the Bangladesh frontier in the east, from the Pamir Knot in the north to the state of Karnataka in the south.
Bindusara, another great Mauryan emperor and his low-ranked queen Dharma were the parents of Ashoka. From his formative years, Ashoka was an aggressive and arrogant boy and received war trainings. His military skills were soon recognized by his father and he was sent to quell rebellions arising anywhere in the empire. Among his most noted early feats was suppressing the riots at Avanti and the battle of Ujjain.
Sustaining serious injuries in Ujjain, Ashoka was secretly treated by Buddhist priests and nursed by the daughter of a Vidisha merchant named Devi. She went on to become his wife and this marriage prompted Bindusara to make him the governor of Ujjain permanently. Following Bindusara's death, Ashoka's brother Susima tried to assassinate the pregnant Devi to uproot rivalry for the throne.
An enraged Ashoka attacked the Mauryan capital Pataliputra and killed all his siblings to earn the reputation of the fiery Chandashok (meaning, the terrible Ashok). Thereafter, he ascended the throne and started expanding his empire for a span of 8 years with sheer bloodthirsty conquests. One such conquest included Ashoka's attack on Kalinga, which killed 100,000 people. Ashoka plundered and destroyed Kalinga entirely and after that when Ashoka ventured into the battlefield all he could see were corpses. This sight made him sick and he cried the famous monologue, "What have I done? Are these marks of victory or defeat?" The brutality of the conquest led him to throw away his sword forever and adopt Buddhism. From Chandashoka he turned into Dharmashoka. This change in him made him leave all his pleasures in conquest and become someone made to protect humanity. He also made Buddhism his state religion.
Ashoka having turned into Dharmashoka appointed his son Mahindra and daughter Sanghamitra to propound Buddhism in modern Sri Lanka and South-east Asia. In India, he built many Viharas and Stupas for the Buddhist monks. He followed the policy of ahimsa (non-violence) and banned animal slaughter, poaching and founded animal hospitals. His principles of equality, fraternity and tolerance were engraved in stone edicts and pillars to be put up in the various corners of his empire.
Ashoka realized the importance of education and established several universities. He took steps for the common welfare by improving irrigation system, water transit, treating his subjects as his children and showing kindness to prisoners. He completely withdrew from wars and respected his political neighbors as allies. He paved the way for procuring herbal medicines and taught respect for elders.
The greatness of Ashoka was given its due when India endorsed his emblem the Dharmachakra (The Wheel of Righteous Duty) in her National flag after independence. Ashoka was enlisted as the 53rd most influential historical figure by Michael H. Hart and duly recognized in H. G. Wells' work The Outline of History (1920). The Dhamma principles followed by him were much ahead of his times and synonymous with universal brotherhood of today. Ashoka was the first emperor who managed and ran an empire larger than Egypt or Rome with the principles of non-violence and tolerance only.
2. M K Gandhi (1869-1948)

Father of India – Mohandas Karamchand Gandhi is better known as Mahatma Gandhi to the world. He was born in Gujarat on October 2, 1869 in a conservative family. He took up law at University College, London and received admittance to the British bar in 1891. His efforts to undertake a legal profession in India was not much successful and he went to South Africa to become a legal advisor in Durban. He felt the humiliation of the inferior treatment and struggled against the total denial of civil and political rights to the Indians settled there.
Gandhiji's campaign against the British oppression continued and he started a civil disobedience movement for gaining Swaraj (home rule) in 1932 in India. He was arrested while doing a 'fast unto death' but he continued to fight for eradicating unfair socio-economical aspects of the caste system. The goal for his 1934 India tour was improving the status of the Hindu untouchables and teaching the principles of Satyagraha (eagerness for truth) and ahimsa (non-violence).
He continued to gain political foothold by inspiring mass participation in movements like Dandi march for breaking the British salt law, the Swadeshi Movement that boycotted British goods and Non-cooperation movement by opposing British rule. He became the leader of the Congress several times. Following the outbreak of the World War II, the Indian struggle for independence took a strong turn and continued until 1944 when the British had to agree to the Indian demands but put up a condition of partition of India and creation of Pakistan.
Gandhi agreed to this compromise hoping the restoration of internal peace if the Muslim demands were granted. However, the Hindu-Muslim riots following 1947 dashed his hopes. He took another fast for stirring national response but was assassinated the very evening on January 30, 1948. What Gandhiji left behind was the doctrines of universal love, non-violence, sacrifice and forgiveness. His practical application of these principles in every aspect of his life inspired non-violent movements among the American Blacks an other leaders worldwide.
Martin Luther King Jr. commented: "Christ gave us the goals and Mahatma Gandhi the tactics." Romain Rolland and Nelson Mandela were some of the other world leaders to be influenced by Gandhi. Albert Einstein mentioned in a letter to Gandhi that he was "a role model for the generations to come." Gandhi himself made the most interesting comment about himself to a journalist when he said, "My life is my message."
1. Buddha (B.C. 560- B.C. 480)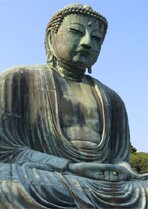 The founder of Buddhism, Gautama Buddha was born as Prince Siddhartha to Sakhya king Suddhodana and his queen Maya. His birthplace Lumbini was located in the small principality called Kapilvastu in modern Nepal, but the kingdom of the Sakhyas spread to the upper Gangetic plains of India. Destined to become a great ruler, Siddhartha was brought up by Maya's sister Maha Pajapati among royal luxuries, away from the religious and philosophical teachings of life.
In his 29 years of princely life in Kapilvastu, Siddhartha married Yasodhara at the age of 16 and fathered a son named Rahul. Despite his father's protections, he came to face the reality of old age, sickness and death under the guidance of his charioteer Channa. At 29, he realized the futility of material prosperity and set out as an ascetic to seek the truth.
Wandering as a hermit, Siddhartha eventually arrived at Bodh Gaya and sat under a Bodhi (Pipal) tree in a deep meditation for 49 days until he acquired 'enlightenment' and became the Buddha (the awakened one). He founded the Four Noble Truths, for eliminating suffering from human life and spread the message of ahimsa (non-violence) to the common masses.
Buddhism seeks to eliminate ignorance, the root of all miseries by following the Four Noble Truths that should lead to Nirvana (salvation). The doctrines of Buddhism spread to the Indian Gangetic Plain and people from all castes and social strata became his disciples. Buddha founded the Sangha for the Buddhist monks and nuns and attained Nirvana at 80 years.
Buddha taught that the only way to eradicate human sorrow was to transcend desire for worldly and sensual pleasures. We can achieve eternal peace only by walking the Middle Path of moderation. The truth and goal of human life is achieving Nirvana. The teaching of Buddha has become ever more relevant today and is the effective way of forsaking violence. More than 1.5 billion Buddhists in the world today follow the footsteps of this prince from India.