Top 10 Famous African Paintings
Suggested by SMS
African Art is truly the most diverse bequest of planet earth. Though many art critics have often 'generalized' African art, but they have grossly overlooked the fact that this continent is a sum of different people and civilizations, which influence the visual interpretations of each area. Despite the diversity in visual interpretation, African art is more or less bound over unifying themes all across Africa.
Some of the most famous African paintings are:
1. The Inevitable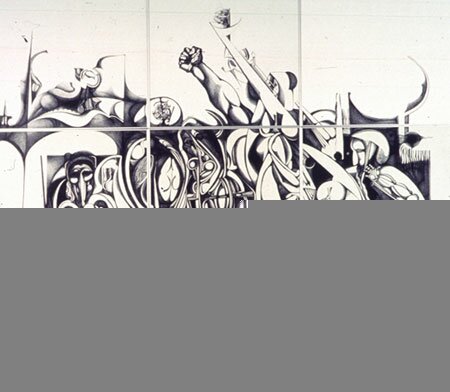 This is one of the finest creations by African Artist Ibrahim El Salahi. Salahi has infused thoughts of modernism along with the Sudanese traditions to make an art form, which has a universal appeal.
This painting is more or less a depiction of the time he spent in prison. The nine sections in this painting represent the different phases of his incarceration, and it also symbolizes the civil upheaval and strife that devastated Sudan after the collapse of British rule. Arab and Coptic motifs have been extensively used to give a feel of distorted faces. Arms and fists depict an uprising against injustice.
Though the painting is in a monochrome format (Black and White), yet the lack of color is not felt. With absolute no-negative space, this piece of art is bold, sharp, progressive and well composed. It is a visual treat.
2. Semekazi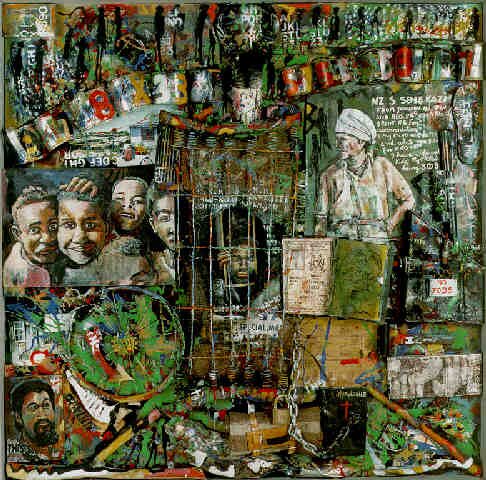 Willie Bester has tried to touch-base an important theme in his creation named Semakazi. Bester is a yet another progressive thinker who has tried to depict the condition of migrant workers in South Africa. The art work outlines the fact that during those times, none of the migrant workers received a pension or a secure and respectable retirement, once their tenure was over.
This painting is a collage of images depicting various aspects of his life. At the centre, there is Semekazi's bed which has been shown in the form of a prison, in which he has been captivated. In the foreground, there is a bible which has been connected to the bed by a chain. The illustration symbolizes that during those times, African nations were run on Christian beliefs. To the left of the bed, there is an image of a family which clearly states that Willie always aspired to lead a family life.
3. Sida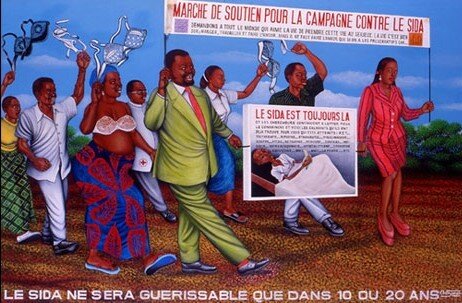 Sida is a world renowned creation by an African artist named Cheri Samba. Like most of his creations, Cheri has tried to address one of the most vital aspects i.e. the political scenario of the African continent. In this painting, he has shown that the elite class of African continent is carrying out a procession. The painting has a subtle hint of sexuality which has always been an important element of Cheri's paintings. African women in semi-clad state are throwing away their lingerie, and such a depiction brings forth the occurrence of a kind of sexual oppression, which people may have been facing during those times. Quite a bold member of Cheri's paintings, Sida also features textual content which highlights his innate aggressive nature. The painting represents a strong sense of depth and an eye for composition and color as the painting has a 'perspective' look and feel.
4. Healing of Abiku children

This intricate piece of work has been created by the world renowned Nigerian painter who works under the pseudonym of Twins Seven Seven. It is influenced by the Yoruba mythology and culture to a large extent. Twins Seven Seven has included human figures along with one of the most revered Yoruba gods, with magical powers to cure people. The painting depicts a village scene where kids from far flung places have been brought to get cured. In this painting, one by one, each kid is getting cured with the help of solutions prepared by the healer. The brown hues and circular lines highlight the orthodox nature of the artist and his strong belief in the traditions of his civilization. Most importantly, this painting depicts the strong inclination of people to associate to the Yoruba gods for respite to their problems.
5. Women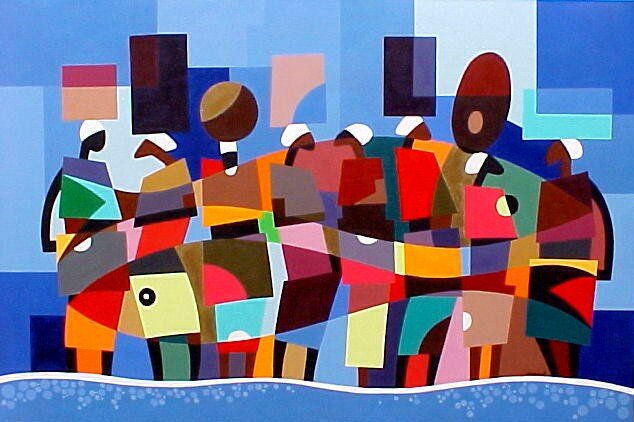 'Women' is an extension of Nicholas Nana Yaw Kowalski's personal attitude towards life. This oil painting is dazzling, dramatic, thought provoking and quirky. His works has always been woven around themes such as god and family. Perhaps he has a strong belief in the sanctity of the two parts of man's life.
'Women' has influences of modernism with the soul of traditional African style of painting. The color palette and strokes depict an influence of traditional African painting style. However, the geometric designs and sharp contours symbolize a progressive thought process. Through the painting, the artist has reasoned out a view point where he feels that people can stay together yet have their distinct tastes/ likings, and lead a happy life. He believes there is absolutely no need to part away and live a 'Nuclear Family' life.
Of late, he has created some of the most amazing pieces of work.
6. To listen to reason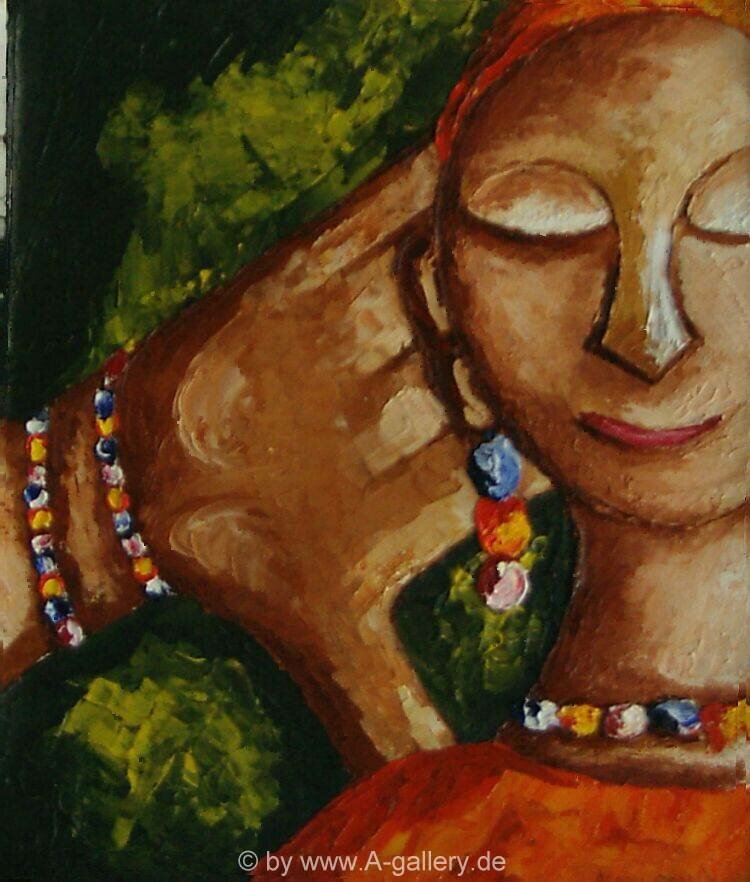 Mary Ogembo, from Kenya is a famous painter and has been working for quite some years. Being a woman, she is always inclined to work on themes related to women. She has carved a niche for herself for depicting the beauty of African women through oil paintings. In fact, Mary Ogembo has mostly depicted the life of African women, their struggles and their duties through her creations.
In this painting, the green color in the background symbolizes growth and development. The brown hues in the painting depict the calmness and stability. Orange hues depict signs of vitality. The girl, standing in the foreground with her eyes closed has ornaments around her neck. She even has ornaments on her hands and this clearly represents signs of prosperity. To put it short, Mary has showcased the spirit of African women in this painting.
7. Disagreement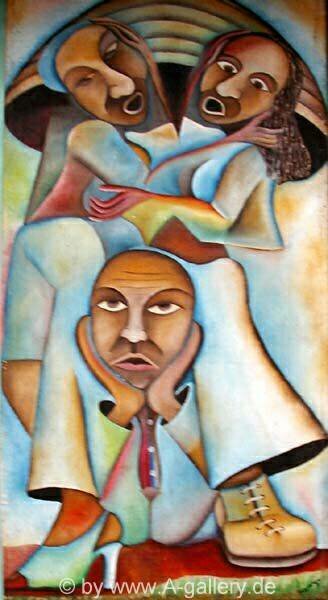 Disagreement is yet another stupendous creation of Kenya's one of the most illustrated artist Martin Kamuyu. Martin Kamuyu started painting at a very young age and he did that in free time. After finishing his daily chores, he would often paint and then ornament his paintings with plant leaves, charcoal and even egg yolk. Later on, Martin developed his distinct style as he began to represent issues from lives of people in his paintings. Martin has always adhered to themes pertaining to education, culture and lives.
In Disagreement, Martin Kamuyu has tried to depict the chaos in a common man's mind when he seems to be caught in his own thoughts. Shades of white and red represent passion and purity as two different aspects that seem to exert pressure on the subject. As a result of which, the subject appears to be in a state of dilemma.
8. In Market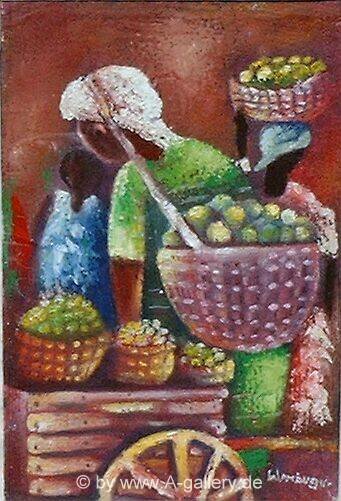 In 'In Market', Jeff Wambugu has wonderfully captured a busy market street scene. There is a wooden cart in the foreground. A woman is carrying fruits on her back. Another woman in the background looks warily at the woman with fruits. The green and brown hues in the foreground represent strife for stability, for a better income and the dark blue hues in the back ground depict static past.
Like the rest of contemporaries of his time, Jeff Wambugu has always tried to capture the essence of a common man's life in his paintings. Being a keen observer, Jeff Wambugu has used his observations as key elements to depict the seemingly mundane activities of life. 'Slice of Life' themes such as market scenes, roadside shops, Paper boy etc have been meticulously depicted by this artist. Perhaps, the other common element of his creations is the optimistic approach towards life.
9. Dusk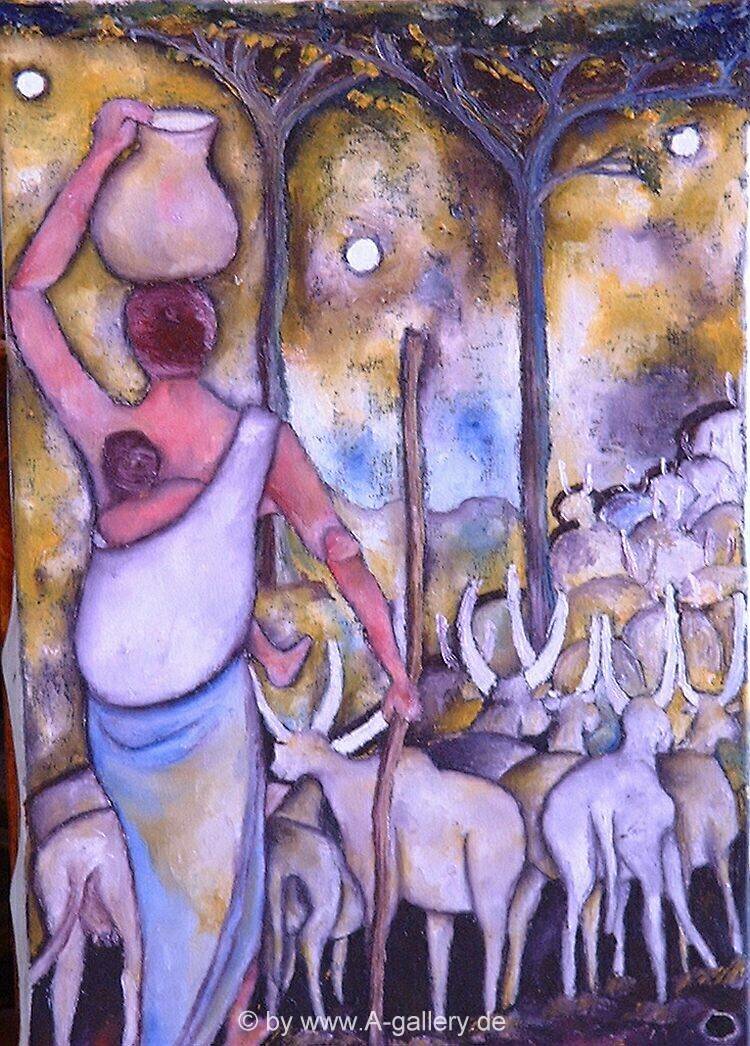 Dusk represents the rural life of Africa. In this painting, Shine Tani has depicted a mother carrying her child and a water container, while at the same time, she is herding the cattle. The artist has tried to showcase the hardships of rural African women and their spirit to endure and go on for the purpose of living. There is a prominence of blue and mauve color which represents the color ambience during dusk.
Shine Tani had a tough upbringing. Since he belonged to a poor family, he was mostly involved in earning bread for the family. Whatever he learnt or grasped about art was through his elder siblings. To support his family, Shine Tani kept switching between menial jobs and even resorted to street begging. It was during one of his daily ordeals that he realized his talent and thereon, he got involved into it. Most of his paintings depict his experiences of his struggle in life.
10. Woman in Kitenge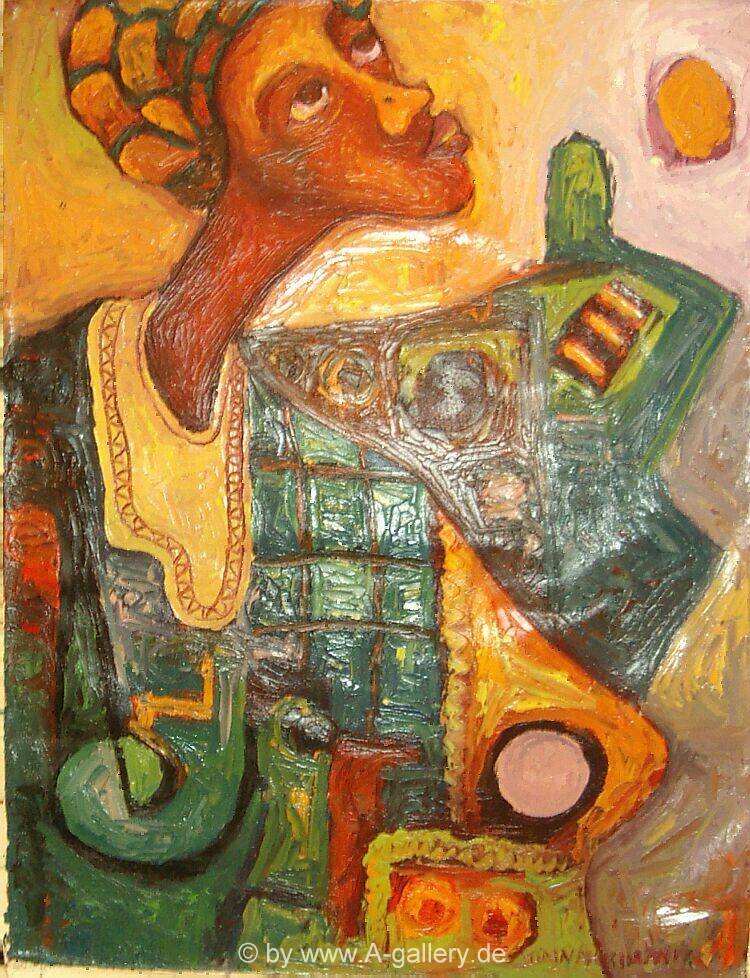 The specialty or uniqueness of this painting is the usage of bright colors with distinct layering. The strokes are strong and prominent. 'Woman in Kitenge' depicts a woman in deep thought and wonder. She seems to be preoccupied with thoughts related to daily chores and the members of her family. The most striking feature of the painting is the eyes of the woman. The woman's eyes showcase a feeling of wonder. Despite the fact that strong strokes have been used, there is softness in the woman's face.
Jimnah Kimani is a prominent painter from the African continent. His paintings have been based on human figures and their lives. By using bright colors and strong strokes, Jimnah Kimani has depicted the different emotions in an ordinary man's life and how these emotions tempt him to take certain actions. Due to his offbeat representation of life, his works have always been popular across the planet.