Top 10 Gangster Wives/Girlfriends
Suggested by SMS
Bad men need love, too. That's evident from the many gansgsters who had women in their lives, who loved them unconditionally. Some had women who  loved them enough to live a life of crime with them. Others, had the love of a women who looked passed their criminal activites and simply enjoyed the spoils of them.
Many gansters had wives or girlfriends. Most times, these women became permanent fixtures in the lives of these kingpins and criminal lords. Whether they were legally married or simply shacking up, they earned the title of being their partner's girlfiend or wife. With the title comes the respect that is fit for a queen.
10. Andrea Giovino

This mother of 4 would not even give thought to the idea of going into Witness Protection, even though she knew there was a contract on her life. In 1992, Andrea Giovino was indicted along with her "husband" and brother on drug charges. As a favor, in return for her co-defendant's co-operation, she was simply relocated.
Andrea became romantically involved with Frank Lino but the two were never legally married. She lived a wonderful life with him and he was a great father to her children; they had none together. When Lino was incarcerated, Andrea claims that she had to take the reigns and become a mobster herself. Many people question some of her stories and she is often referred to as a mob groupie. This is mostly because she was an attorney, who knew nothing about mob life until her divorced lover taught her everything she needed to know.
9. Maria Victoria Henoa

Columbian drug lord, Pablo Emilio Escobar Gaviria, was a very efficient criminal. He was able to elude authorities for a long time, as he built his riches from his cocaine empire. During his time as a criminal, he acquired many homes, cars and airplanes.  In the latter part of the 1980's, he even tried his hand at politics in Columbia.
In the spring of 1976, 26 year old Escobar married Maria Victoria; she was 11 years his junior. She lived a good life with her husband and two children. By 1989, Forbes had listed the man's worth at $24 billion. Still, her husband was a criminal and found himself fleeing constantly to elude capture. He lived many years away from his family but close enough to always know what was going on. Ever the loyal wife, she aided her husband in remaining hidden. That is, until authorities caught on.
Unable to flee Columbia, and under constant surveillance and guard,  the wife of the ruthless killer was under pressure. Informed that she would soon be left alone if her husband didn't surrender, she asked authorities to give him more time. Escobar didn't surrender; he had to be found. Unfortunately, he was also killed in December of 1993, by Columbian National Police.
After her husband's death, Maria Victoria Henoa attempted to start a real estate company. Upon finding out her true identity, her accountant tried to blackmail her. When she tried to report it, she was forced to reveal her identity and ties to Pablo Escobar.  Subsequently, she was detained and imprisoned for 1 ½ years on money laundering charges.
8. Virginia Hill

Virginia Hill was a courier for an organized crime outfit that was stationed in Chicago. However, she is known more for her role as the girlfriend of Genovese Crime family mobster, Bugsy Siegel. In 1951, Hill was subpoenaed to testify in court, before a committee that was specially put together to investigate the underworld movements of the mob. She denied being aware of any organized crime. She also told investigators that she maintained her lifestyle with gifts that her many boyfriends gave her because of her sexual abilities.
Virginia left for Europe when she was charged with tax evasion. She remained there until the time of her suspicious death in 1966. It was believed that she had committed suicide, by taking sleeping pills. However, her body was found near a stream, just two days after she met with a former lover. That old lover was Joe Adonis; one-time Genovese family boss. Adonis swore that he had two of his bodyguards escort the woman home. She never made it. Many believed that she tried to use what she knew about the Italian Mafia to swindle money from the man.
7. Mayme Hatcher Johnson

Mayme Hatcher was born in North Carolina in 1914. At the age of 24, she moved to NYC and got a job as a waitress. Ten years after her arrival in the city, she met and married Ellsworth "Bumpy" Johnson. As the wife of one of Harlem's most infamous gangster's, Mayme was treated with the utmost respect anywhere she went. Her husband spoiled her with the finest things that money could by. However, there was a downside. There were women all over the city who wanted Bumpy for them self, she was constantly accosted by them.
Mayme never took part in any of her husband's criminal activities. By all reports, she was as classy as they came. She carried herself with respect and never let her husband's life interfere with hers. However, she stood by him; even when his criminal life had him arrested over 40 times and sentenced to 10 years in Alcatraz.
Mayme Thatcher Johnson passed away in 2009, at the age of 94. Just a year prior to her death, she finished the biography about her husband that she had wanted to put out for most of her life. She refused to leave the world without people knowing who her husband truly was.
6. Linda Schiro (Scarpa)

Linda is the wife of notorious former mob boss, Gregory Scarpa, better known as the "Grim Reaper" and "The Mad Hatter".  Scarpa was given his nickname by his peers when it became evident that he was one of the most feared hit-men in the city's organized crime network.  He was also the primary enforcer for Carmine Persico, head of the Colombo family.
Known as Big Linda, since her daughter bears the same name, Linda Schiro began seeing Scarpa at the age of 17. So, she spent the majority of her life in high style and class. Having all of the best things that money could afford. In her 30 years with her lover, she had become accustomed to dinner and diamonds. But all good things come to an end.
Scarpa died in prison in 1994, of Aids. Big Linda is now reduced to living in a rented apartment and living hand to mouth. Her husband's fall from grace with the mob, which led to a 7 month war between families, has left her destitute. No one ever figured out what happened to the millions that the Grim Reaper earned over the years. All that remains is evidence that a life that once was filled with ill-gotten gains has paid the ultimate price, with poverty.
5. Julie Lucas

Renowned gangster, Frank Lucas was a country boy from North Carolina, who turned Harlem into a heroin haven. As a drug dealer and organized crime boss, he turned the African American dream neighborhood into a nightmare throughout the 60's and 70's. Still, behind every bad boy, is a bad girl.
Julianna Farrait was a young Puerto Rican homecoming queen. She fell in love with the local heroine king and soon became his wife in 1972. The two shared a lavish lifestyle, full of expensive gifts, Mercedes Benzes and diamonds. Julie's loyalty to her husband became evident when she spent five years in prison for the part she played in Frank's criminal activities. Upon her release from prison, the two separated. However, there was reconciliation in 2006. The couple has been married for more than 4 decades.
They say that old habits are hard to break and it was proven in 2010 when 70 year old Farrait was arrested in San Juan, Puerto Rico. She allegedly attempted to sell 2 kilograms of cocaine to a police informant. Federal agents from New York had been keeping an eye on the gangster's wife for nearly a year.
4. Victoria Gotti

This blond beauty is a double edged sword. She was born and married to the mob; as the daughter of John Gotti and wife of Carmine Agnello. Carmine was a member of the Gambino crime family and he ran a scrap metal business. The two lovebirds first got together in the 1970's.
The Gotti name is infamous and her father was one of the most feared mob bosses in the country. Her husband wasn't a slouch in the world of tough guys either. However, Victoria raised some eyebrows after the death of her 12 year old son, Frank. In the spring of 1980, Frank Gotti was struck by a car and killed while he was riding a mini-bike, not too far away from his home. Unfortunately, the driver of the car was back fence neighbor, John Favara.
The grief stricken mother asked for an eye for an eye and the local police were warned that he was to be "terminated". After seeking advice from a mob friend, Favara was told he should unload his house and leave town. That summer, Victoria and her father went to Florida on vacation. During their absence, John Favara had disappeared. He was eventually declared legally dead.
3. Mary Evelyn "Billie" Frechette

Mary Evelyn Frechette, also known as Billie, met John Dillinger in 1933. She experienced her first taste of her boyfriend's criminal life that same year. As the couple was leaving a Chicago doctor's office, a shootout ensued. Later that year, Dillinger's buddy killed a police sergeant; forcing the gang to leave the city. Evelyn left with them and traveled through Florida, to Arizona; where they were both arrested. Evelyn was released because she couldn't be identified under the alias she used. Evelyn was present during many of the crimes committed by the man declared Public Enemy #1; including the ST. Paul shootout that took place after his escape from jail.
Billie was arrested for harboring the fugitive. Dillinger watched her arrest from a about a block away.  She was sentenced to 24 months in federal prison; she served two years and a day. After her release, she traveled with John's family and told stories of her life. She would later settle down again and live the rest of her days out on the Indian Reservation on which she was born.
2. Helen Gillis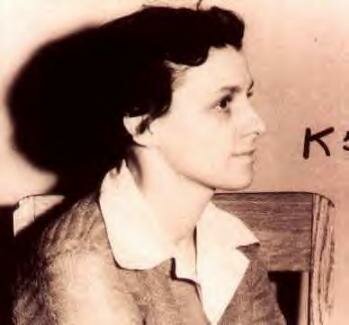 Lester "Baby Face Nelson" married Helen Gillis in 1928. Throughout the duration of their marriage, she would never use her husband's last name, but she did embark on a life of crime with him. In 1934, the couple became part of the infamous Dillinger gang. Together, they took part in bank robberies and crimes across the country.
It was in the spring of that same year that FBI agents tracked the gang to the Little Bohemia Lodge, Wisconsin. Although they were surrounded, the men got away, leaving the women who were traveling with them behind; including Gillis. In November 1934, Lester Gillis was fatally wounded in a shootout with FBI agents; who also resulted in the death of the agents. Loyal to the man that she shared a life of crime with, Helen refused to leave his body behind. She took it with her and an associate, as they left the scene of the shootout. He died in his wife's arms.
Two days after the naked body of Lester "Baby Face" Nelson was found in a ditch, near a cemetery, Helen Gillis turned herself in. She was sentenced to one year and a day at the Women's Federal Reformatory in Michigan.
1. Bonnie Parker

Bonnie Elizabeth Parker is the female half of the outlaw duo, Bonnie and Clyde. The couple was made infamous by their criminal activities across the United States between 1931 and 1934.
Bonnie met Clyde Barrow in 1929, at the age of 19; a year after her three year marriage had fallen apart. They instantly fell in love. Bonnie joined her new beau and his gang on the road. As a criminal organization, they robbed banks, general stores and of course, there were murders. The gang, including Bonnie, became some of the country's most wanted criminals. Ironically, there have been stories told by victims of the gang about how polite and caring the criminals were.
Bonnie made history with her lover. They were known around the world. It seemed they did everything together. It would only be natural that they die together, as well.  On May 23rd, 1934, the car carrying Bonnie and Clyde was ambushed on a Louisiana Road. They died in a hail of 130 rounds.
As you can see, even the most ruthless men had love in their lives. Some of them lived, committed crimes and died together. Some left their women behind, in an effort to protect them. Some left their loves behind after they paid with their lives.
These women loved their criminal minded men. They knew them in ways that no one else did; which is probably why they could love them as no one else could. Love has the power to make even the hardest and coldest man, go totally soft.