Top 10 Breastaurants
Suggested by SMS
Restaurants have been around for centuries, but recently a new breed of restaurant has become the fastest growing eateries in the dining industry. So much so, they have even created a new name for this particular type of restaurant. This new breed is geared almost exclusively at the male segment of the market and offers man sized portions with man specific entertainment. Sports, beer, and of course, scantily clad women to serve you. These new restaurants have coined the name "Breastaurants", yes you read that correctly. These restaurants feature specific fairs, beverages and attractive, young, and in most cases, well-endowed servers. Here we have put together a Top 10 list of the most appealing restaurants for your eating and viewing pleasure.
10. Fricker's

Fricker's Restaurant is fairly new to the "Breastaurant" sports & grill business as it's making its debut in the Midwest, Indiana and Ohio particularly, but is spreading rapidly. Here you will find an endless amount of wings, beer, fun and a hot wait staff. With all kinds of sports on the brain, you will be able to find whichever big sporting event you could imagine on one of the multitudes of flat screen televisions throughout. Along with this being a "guy-oriented" sports bar, Fricker's made room for family fun in their game room featuring air hockey, basketball and video games. Come hang out with friends or bring the whole family, enjoy some appetizers or have a full rack of ribs while you toss back a couple cold ones. The servers make your visit even more enticing with their sexy umpire shirts with shorts or figure flattering jeans. Enjoy the festivities as the entertainment is there for any big game or holiday. Fricker's seems to have it all. A definite must if you're in the neighborhood.
9. The Bikini Sports Bar & Grill

This is a new and upcoming chain of restaurants that cater to the male gender. The name speaks for itself; yes these waitresses will serve you in with a tan, a smile, and in a bikini. The Bikini Sports Bar & Grill opened in 2011, since the grand opening in Austin, Texas, this restaurant chain has expanded, opening several additional locations in Texas, North Carolina, and Oklahoma. The Bikini Sports Bar & Grill serves an "All- American Menu" and carries over 100 imported & domestic beers.
8. Heart Attack Grill

The Heart Attack Grill is appropriately located in beautiful Las Vegas. This moderately priced burger palace offers a man sized burger of epic proportion. The Double Bypass Burger was made famous due to its mythological ability to clog your arteries with just one burger. At over 9,000 calories one cannot be sure if this is actually a myth! Couple the burgers with a huge basket of fries and a Jolt soda, then served by beautiful women in Naughty Nurses outfits and you have a fantasy dinner experience. Upon arrival customers are greeted by the "nurse" and you are dressed with the atmosphere appropriate hospital gown. After your order is placed, the "doctor" prepares your "prescribed dose". The only downside of this one of kind eatery is there is no alcohol. But, who doesn't love a hot woman in a naughty nurse costume?!
7. Brick House Tavern & Tap

The Brick House Tavern & Tap is a Florida based beer and sandwich joint. There is something different about this establishment though, it serves beers on tap from small, local micro-breweries. They stock a very diverse line of micro-brews to please even the most exotic palate. There menu is American fare and is made from fresh local supplies daily. No frozen, processed food products here. The servers at The Brick House are also a massive draw with the male patrons with their denim shorts or skirt and there low neck line BH logo shirts. They are bit classier than other "Breastaurants", but still no slouch on the availability of skin showing and beauty. The Brick House has many different "Guy" events as well, such as, Corn Hole tournaments and several other activities and they rotate from location to location. The Brick House is great guy hangout that you could spend hours in and never get bored.
6. Wow!es Sports Grill

Wow!es is located in beautiful Boca Raton, Florida, which is totally appropriate to attract the guy crowd. They are open daily with happy hour starting at 11:30am and gradually transfer over into the night life with a live DJ for drinks and dancing. Their menu offers a variety from seafoods, pastas and appetizers to an abundant selection of good old fashion "bar" food. The bar has a complete selection of premium and top shelf liquors to house wines and a list of popular beers on tap and in bottles. The waitresses are Florida's finest, friendly and attentive, and let's not forget sun-kissed beautiful. You have your option to sit inside and enjoy the atmosphere of sports, food, drinks and hotties or be outside on the decks and admire South Florida's amazing scenery. As many will say, however, it's all about the Wow!es girls.
5. Mugs-N-Jugs

Welcome to Clearwater, Florida and what a better way to say hello than with Mugs-N-Jugs. This restaurant has packed their menu with beer, liquor, fried food, burgers, and so much more. Famous for their award winning huge wings, Mugs N' Jugs are voted #1 in the Tampa Bay area for wings. This Clearwater legend also has the sexiest, fresh off the beach, looking servers you have ever seen. Now throw in tons of TV's and every must see sporting event that you could want and, of course, lots and lots of beer, you're in the perfect spot. For all you singers out there, come, party like a rock star with karaoke every night after having some savory slowly smoked BBQ and ice cold beer. This "Breastaurant" is the hot spot for all guys in the Clearwater area and they pack the place on a regular basis.
4. Bone Daddy's House of Smoke

Now this is a "Breastaurant" after every man's heart. Located in several states but started in Texas, this BBQ house has coupled every single thing men love and it's all in the same place. If you are a huge fan of pit BBQ, Bone Daddy's has the best in the west. Whether it is the traditional rack of ribs you are after or a mouth-watering smoky chop brisket, your needs will be met and you won't leave hungry. End your meal with some sugar from mama by indulging the infamous Nana's Pudding full of sliced bananas and cookies topped with whipping cream. If you have a big event coming up, contact Bone Daddy's and let them cater for your guests. That said; don't let the high end décor and huge flavorful menu fool you. The reason most men keep coming back is the women. The gorgeous and cheerful wait staff is genuinely happy to serve you. The atmosphere in this top of the line spot is one that you can't stop coming back to. The food is amazing and the servers….. Well….. They are definitely a reason to keep showing up.
3. Tilted Kilt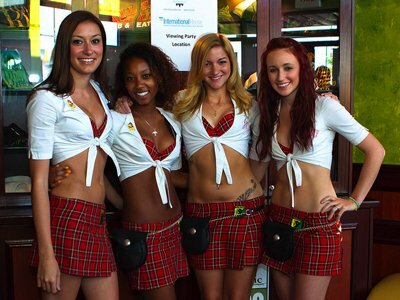 This is what every man looks for in a great, guy restaurant. Lots of beer and liquor drinks featuring a huge menu and if you can dream it up, they will do their best to make it for you. The menu is not only huge, but their food is fantastic, from burgers to pizza to full blown five-star entrées that will make your mouth water just thinking about it. All this is reason enough to make it on the Top 10 list. This is however a guy restaurant and what would that be without women. Not just any women but beautiful young women dressed in naughty school girl outfits. Whether you are of Scottish decent or not, pretty sure there is a length requirement to call a plaid skirt a kilt but who cares, these women are hot. The Tilted Kilt also uses something that NO other "Breastaurant" uses and that is the touch technique. The owners of the franchise actually enlisted the help of doctors to help them determine a way to make the customers experience more interactive and suggested the touch technique. This allows the server and the customer to make a more intimate connection thus giving the customer a more personalized experience. The better the customer feels after his experience the more often he will return. This has paid off huge for The Tilted Kilt. The Tilted Kilt is putting locations everywhere. They are already dominating the Eastern side of the U.S. and are spreading faster than any other brand.
2. Twin Peaks

Ok so how did Twin Peaks make it on the list and you probably have never even heard of them? Well, the reason is, you will. You see, this Texas based "Breastaurant" has been spreading slowly across its home state. Twin Peaks recently was franchised to the two men that know exactly how to grow this new segment; these two men are the former CEO's of Hooters. They have taken their experience and years in this business with the industry leader and set out with the Twin Peaks brand making huge strides in expansion. Bolstering a complete American Fare menu and full bar with plenty of sports and entertainment, the previous Hooters CEO's have brought there "Breastaurant" model to Twin Peaks and it is winning. With their beautiful, attentive, cheerful servers wearing as little as possible without being risqué, this new brand is on a tremendous growth escalation. If you're in Texas then enjoy, if you are in other southern states just relax, there coming faster than you can imagine.
1. HOOTERS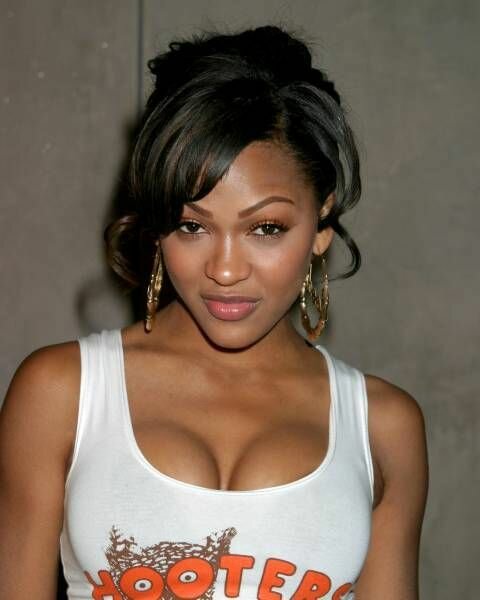 Now come on, you knew it would be Hooters at the top of the list. No brand has done as much and is as recognized as Hooters. The company was founded in 1983 in Florida. In just under 30 years they have become a house hold name, not just in the United States. The Hooters brand has 430 locations in 27 countries and they are still growing. Hooters is about as simple as the "Breastaurant" business gets: wings, sandwiches, beer, sports and those all too well-known bright orange booty shorts. Plenty have been to Hooters all over the country and it is appropriate to say that Hooters have earned their top rating with their marketing of not just their restaurants but the Hooters Girls. They offer calendars, clothing, and now they even have their own magazine. This is a brand that anyone will have a tough time beating. However, this is all second to the fact that Hooters has mastered the art of beautiful, well-endowed, and overly friendly severs doing a great job of bringing men back over and over and over again.

Well, there you have it, that's the TOP 10 best "Breastaurants" in the game. These 10 establishments have done a fantastic job of bringing the male market to the front of the restaurant industry and using the female physique to help drive profits. The industry was being dominated by family friendly eateries. Men had very little choices when it came to where they wanted to go to have a beer and watch a game with their buddies. Well thanks to the extremely intelligent and always innovative entrepreneurs that see these trends coming before the rest of us, men now have several choices and many more on the way. There are lots and lots of single men out there that don't want to hang out at Applebee's or some other supposed sports bar where people take their kids and/or the whole family. Men want a place they can go and watch sports, drink beer, eat wings and pizza and stare at beautiful women. As insensitive as you might find it, it's the truth and it's a booming billion dollar business. It's only going to continue to expand and men are thankful for that! If you're looking for a great place to go and get some good eats and great views try any of the TOP 10 locations. You won't be disappointed!