Top 10 Most Valuable Sports Cards
Suggested by SMS
When it comes to collectible items and memorabilia, some of the most dedicated collectors have been able to build accumulations that are worth millions of dollars. There is a wide range of items that have increasing values as time goes on, but some of the most popular collectibles on the market today are sports cards. Original football, basketball and baseball cards of specific players that have been kept in mint condition for decades seem to have some of the highest value amounts throughout the world of collectibles. Here is a list of the top 10 most valuable sports cards.
10. Joe Jackson (1914 Boston Garter SGC 70) – Value: $204,000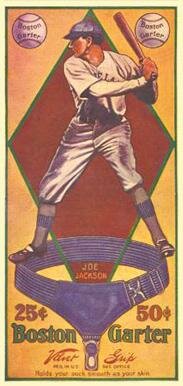 "Shoeless Joe" Jackson first signed with the Philadelphia Athletics for Major League Baseball in 1908, but didn't perform well so he was traded to the Cleveland Naps in 1910. In 1913, he led the league with almost 200 hits and a .551 slugging percentage before being traded to the Chicago White Sox in 1915. Joe Jackson is infamously known for his involvement in what became known as the "Black Sox scandal", which accused Joe and several teammates of accepting $5,000 each to throw the World Series. Even though they were acquitted of all charge in 1921, the Commissioner of Baseball at the time, Kenesaw Landis, declared all of the accused layers ineligible to play Major League Baseball ever again. He has had several statues created in his honor and has been depicted in several films and plays, including the popular Kevin Costner film, Field of Dreams, where he was portrayed by actor Ray Liotta. Maybe it was Joe's popularity and strong fan support that allowed him to even posthumously overcome his infamy and still be viewed as valuable to the society of collectors!
9. George Mikan (1948 Bowman PSA 10) – Value: $218,500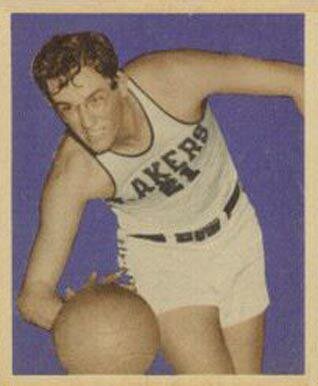 George Mikan proved that you should never judge a book by its cover. He was 6 foot 10 inches, weighed 245 lbs. and was extremely clumsy and shy for the majority of his childhood and early adult life. However, through the close mentorship and coaching of Ray Meyer, basketball coach of DePaul University at the time, George became a dominating force to be reckoned with on the basketball court. He was named an All-American athlete in college three times and was named the Helms NCAA College Player of the Year both in 1944 and in 1945. He continued to be a dominating force even when he played professional basketball for the National Basketball League (NBL) and later in the NBA, becoming famous for his keen ability to make hook shots with both his left and right hands. The NBA had to change several rules of gameplay because of Mikan's skills and leading presence on the court, including the widening of the lane from 6 to 12 feet and the introduction of the shot clock. Off the court, he even contributed by creating the ABA 3-point line (which was later adopted by the NBA), the multi-colored ABA basketball and the formation of the professional team known as the Minnesota Timberwolves.
8. Honus Wagner (1910 Standard Caramel PSA 9) – Value: $219,000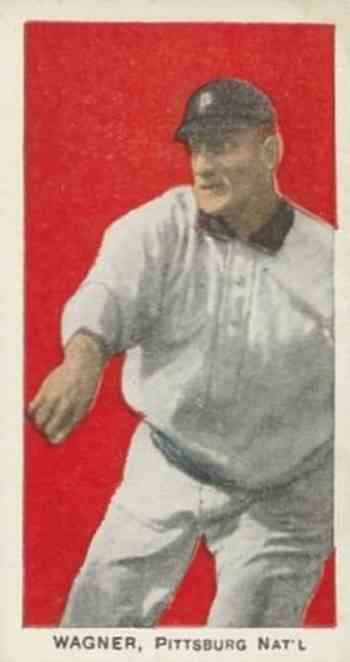 Johannes Peter "Honus" Wagner, also known as "The Flying Dutchman", played baseball for the National League between 1897 and 1917. The majority of his career was spent playing for the Pittsburgh Pirates. He is famously known for such things as winning a distance contest in 1898 by throwing a baseball more than 400 feet and for becoming the first player to steal second base, third base and home after a new rule determined the technical difference between stolen and advanced bases. He was clearly able to prove his loyalty to the Pittsburgh Pirates in 1901 when he was offered a $20,000 contract to sign with the Chicago White Sox but declined it to continue playing for the Pirates. They truly showed how much they needed him and wanted to keep him on board when he wanted to retire from the league 7 years later and the owner paid him $10,000 to re-consider, which he did. Throughout his career, Honus earned 8 batting titles and led the league in both slugging and stolen bases several times. He recorded his 3,000th hit at age 40 in 1914, was one of the first five members inducted in the Baseball Hall of Fame in 1936 and worked as a coach for the Pirates for almost 20 years after he retired.
7. Bronko Nagurski (1935 National Chicle SGC 96) – Value: $240,000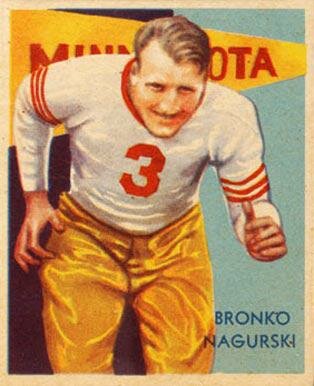 Bronislau "Bronko" Nagurski was known for his powerful and muscular body even as a young boy when he labored at local timbering operations in Ontario, Canada. In 1929, he led the nation in rushing by achieving 737 yards. He was a definitely a big guy and a powerhouse because of his size, strength and stature. He stood 6 feet 2 inches tall and weighed 235 pounds. He has the largest recorded ring size for the NFL Championship ring (19 ½) and was known for wearing a size 8 helmet, probably being one of the largest running backs in his day. Bronko was even able to achieve success and fame in professional wrestling while he was still playing professional football, winning his first NWA word title in 1939. He was chosen to become a charter member of the Pro Football Hall of Fame in 1963 and, in 1999, was ranked by The Sporting News as #35 on the list of the 100 Greatest Football Players of all time.
6. Ty Cobb (1911-1914 General Baking Co PSA 8) – Value: $273,000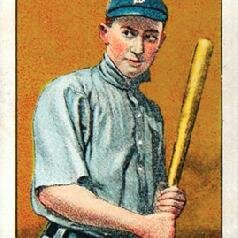 From the moment that Ty Cobb debuted in Major League Baseball in 1905 for the Detroit Tigers, he was known for making and breaking records within the league. He achieved the 2nd highest batting average ever for a 19-year old player in 1906. He stole all bases (including home plate) on the same run five times throughout his career and, at age 20, he became the youngest player to win a batting championship, an accolade that he maintained for almost 50 years. In 1915, Ty set the single-season record for stolen bases, which wasn't broken for almost 50 years, and hit in 35 consecutive games in 1917. Like several other players that played past their prime, Ty returned to the game after he retired and had a very poor performance, achieving a record milestone of the most errors made by an outfielder which has not been broken even today. Even though many people did not personally like him, the amount of respect they had for his performance on the field was reflected by the fact that he was named on 222 of 226 ballots for the first Hall of Fame election. He was listed in 1998 by The Sporting News as the third greatest baseball player.
5. Lou Gehrig (1933 Goudey PSA 10) – Value: $275,000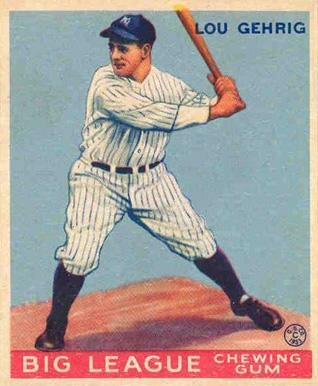 Even though Lou Gehrig spent a large portion of his professional baseball career playing in the shadow of fellow teammate, Babe Ruth, he did not let that stop him from breaking records of his own. He set the major league records of having the most career grand slams and playing in the most consecutive games. He won the MVP award in the American League twice, both in 1927 and then again in 1936 and even won a Triple Crown award in 1934 and he recorded leading stats within the year in several key areas. Even though Lou Gehrig suffered a terminally painful and debilitating illness that would eventually claim his life, he did not let that completely kill his spirit. He officially retired from the league in 1939 and became the first player in Major League Baseball to have their uniform number retired. In October of the same year, Mayor LaGuardia appointed Lou as the New York City Parole Commissioner. Lou was sworn into office in January of 1940 and died in June of 1941. Even 60 years after his retirement, his presence and popularity throughout the league was proven when he posthumously received the most votes of any player on the Major League Baseball All-Century Team.
4. Mickey Mantle (1952 Topps PSA 9) – Value: $282,000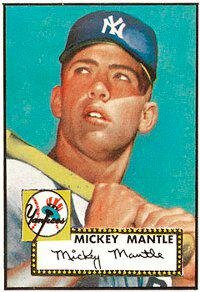 Even if you are not a fan of Major League Baseball, you more than likely have heard of Mickey Mantle. He is considered one of the greatest switch hitters and greatest players overall in the sport. The New York Yankees definitely saw the record-breaking potential in Mickey even when they gave him his first uniform number when he signed on to play with him. His assigned number, 6, fell directly in line after Babe Ruth's #3, Lou Gehrig's #4 and Joe DiMaggio's #5. Throughout his career, Mickey Mantle definitely met and exceeded his team's high expectations for him. As a 1956 Triple Crown winner, Mickey earned 3 MVP awards in the American League and helped his team win 7 out of the 12 World Series that he played in throughout his career. In addition, Mickey is the career leader for walk-off home runs (13). Inducted into the National Baseball Hall of Fame in 1974, Mickey Mantle was also posthumously chosen for the Major League Baseball All-Century Team in 1999.
3. Joe Doyle (1909-1911 T206 SGC 50) – Value: $329,000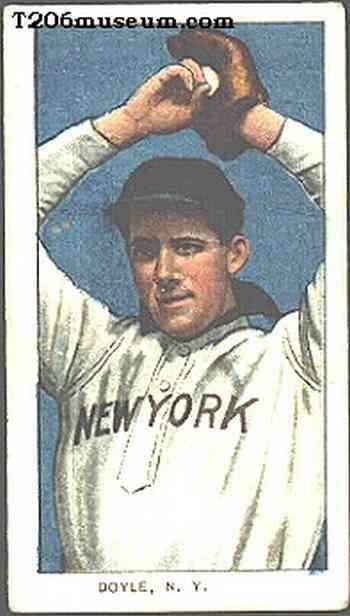 Judd Bruce "Slow Joe" Doyle was an amazing baseball pitcher in the American League. In each of his first two starts at the beginning of his career, he threw shutouts – which only two other pitchers had accomplished before then. Unlike some of the other names on this list, Joe Doyle really did not have a very successful career filled with record-breaking games, awards and accolades. Out of the five years that he played, he only won 22 games. He got his nickname, "Slow Joe" because of the long periods of times that he would wait between pitches to give his throwing arm a rest. However, the rarity of this particular trading card is what makes it so valuable.
2. Babe Ruth (1914 Baltimore News SGC 40) – Value: $517,000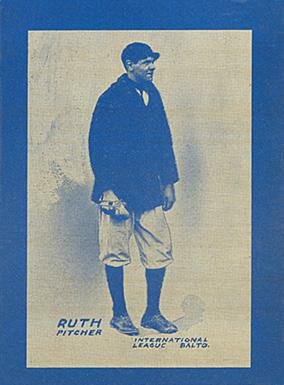 Similar to Mickey Mantle, Babe Ruth is a name that even people that hate the sport of baseball can easily recognize. Unlike Slow Joe Doyle, Babe Ruth's career was almost overfilled with triumphant games, record-breaking milestones and prestigious accolades. He helped the New York Yankees went a total of four World Series titles and seven pennants. He was the first player to achieve 60 home runs in a single season and his lifetime batting average of .342 is the 10th highest average in the entire history of the sport. He led the league 6 times in RBIs, 8 times in scored runs, 12 times in home runs during a single season and 13 times in both OPS and slugging percentage. Babe retired in 1935 and was one of the first five players to be inducted into the National Baseball Hall of Fame in 1936. In 1999, the Sporting News ranked Babe Ruth as being the greatest baseball of all time.
1. Honus Wagner (1909-1911 T206 PSA 8) – Value: $2,800,000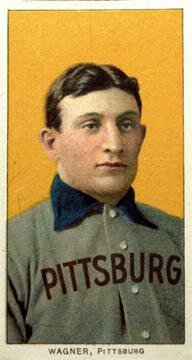 As you can see, Honus Wagner made this list twice. Why is this card worth so much money? You can sum up the reason in one simple word – "rarity".
Rarity Determines Value More Than Players
Many people today believe that only the most popular players have the most valuable trading cards. That is a misconception, as clearly shown from the names on this list. Not all of these players had monumental or even memorable careers when they played their respective sport. However, the rarity of their card in today's market is what determines the value (or lack thereof) of that particular card. So, the next time you're looking through that old box in the attic filled with things that you believed would be worth a lot of money someday, it would be wise for you to do a little research. You might be surprised to learn about the millions of other people that wonder the exact same thing about the exact same item that they have stored within their own homes!