Top 10 Most Disturbing Celebrities
Suggested by SMS
Who are the most disturbed celebrities? Well, the list could be endless but here is a compilation of the top deranged people in today's news. From crazy disturbing photos, alcohol and drug abuse, family neglect and violence, to failed relationships and rehab centers. These are just a few reasons why these celebrities landed at the top of the list? The question, what were they thinking, is what many people ask.
10. Dante Daniel "Danny" Bonaduce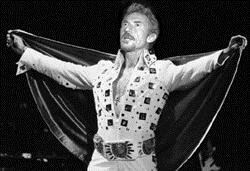 Child star, Danny Bonaduce began his career on the sitcom series The Partridge Family in the 1970s. Bonaduce received the Former Child Star "Lifetime Achievement" Award for his role on The Partridge Family series. He has made appearances on shows like Married…with Children, The Drew Carey Show and CSI: Crime Scene Investigation. The son of veteran TV writer/producer Joseph Bonaduce, Danny has grown to be a famous radio/television personality, comedian, professional wrestler and actor. Growing up, Danny says he grew up in a dysfunctional family full of physical and emotional abuse stemming from his father, Joe. As he entered his adult years, Danny has had issues with drug abuse and even homelessness. His insensitive ideas and actions caused him to have several run-ins with the law resulting in arrests for instances such as attempting to buy cocaine, robbing and beating a transvestite hooker, and felony battery. Danny displayed his sporadic, unpredictable side when he met his second wife, Gretchen Hillmer, on a blind date and marrying her the same day! Despite the quick wedding, the two were married for eighteen years. They had two children together, Isabella and Dante. Unfortunately they divorced in 2007 due to irreconcilable differences. Today, Danny seems to have slightly bounced back to reality being married to Amy Railsback, a former substitute teacher. Amy manages his career, is the writer for Danny's radio show and is the officer and director of Gravel Tones Productions, in general, keeping him in check.
9. Nicole Elizabeth "Snooki" Polizzi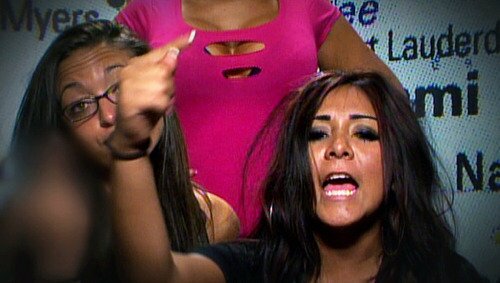 As we all know Snooki Polizzi is a huge reality TV star. Many have seen her plastered all over magazines, news broadcasts and MTV. She has appeared on shows like The View, The Ellen DeGeneres Show, Jimmy Kimmel Live, and The Wendy Williams Show and even on WWE Raw! Believe it or not, Snooki is one of the highest paid reality stars today with earnings of $150,000 per episode. The real reason she has gained this so-called success is largely due to her obnoxious personality. Snooki has found herself in multiple bouts of legal troubles. On July 30, 2010 she was arrested for disturbing the peace, disorderly conduct and criminal annoyance of others. What led to this arrest… a day full of body shots at a local bar in Seaside Heights, beer bongs with coca cola, supposedly, and partying on the beach? While passing down the sentence the judge referred to Snooki as a "Lindsay Lohan wannabe"! What else has this hot-head Italian dabbled in? Yes, you guessed it, nude photography! Maybe the new baby will calm Snooki down and keep her grounded from all of her shenanigans!
8. Kelly Killoren Bensimon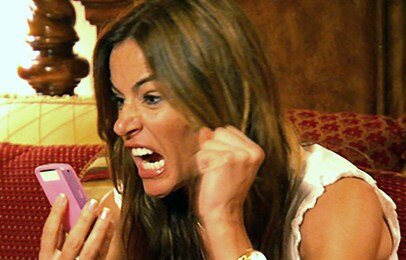 Author, jewelry designer, former model and editor of Elle Accessories, Kelly Killoren Bensimon began modeling at 15 years old and later appearing in magazines such as Elle, Cosmopolitan, Harper's Bazaar and even Playboy Magazine in the March 2010 edition. Kelly was married to French fashion photographer Gilles Bensimon. She gained her fame on the television series The Real Housewives of New York City seasons 2 to 4. The episode that filmed the altercation between fellow cast member Bethenny Frankel and Kelly was the highest-rated episode in series' history. That particular episode attracted 2.4 million viewers. After this "out of body experience" as she puts it, many viewers believe Kelly is insane! Bensimon was fired after season 4 from The Real Housewives of New York City. Her battle with Bethenny has not been her only fit of rage, as she was arrested and charged with third-degree assault for giving boyfriend Nick Stefanov a black eye and gash on his left cheek. Possibly a dose of anger management will do this now actress a bit of good.
7. Teresa Giudice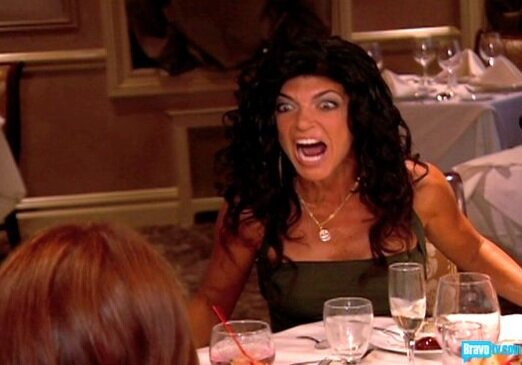 This raging beauty (The Housewives of New Jersey) has gained "Crazy & Disturbing" celebrity status because of her inability to think rationally before she reacts. Teresa is known for flipping tables, vulgar language and lack of self-control; three ingredients that keep viewers coming back for more. She is a bestselling author, mother of 4 beautiful little girls, and has been on the reality television series (The Real Housewives of New Jersey); hosted by Bravo since the first airing in 2010. Though, she has made this list, watching Teresa Giudice on Bravo is always entertaining, because you never know when something is going to flying across the room.
6. Courtney Love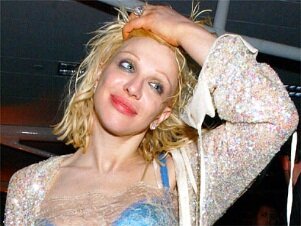 Love gained her fame with the band, Hole, but she made this list for her memorable outburst with Madonna at the 1995 MTV Music awards. She gained international success with the band on their three albums pretty on the Inside, Live through This and Celebrity Skin. Courtney expanded her career in acting as she starred in The People vs. Larry Flynt and Trapped. As a child, she had a troubled youth as Love stated she "didn't have a lot of social skills". At the young age of 14, Love had her first run in with the law when she was arrested for shoplifting and sent to Hillcrest Youth Correctional Facility. By the age of 16, she was working illegally as an exotic dancer in Portland, Oregon. Courtney continued to bounce around going to several different colleges taking classes off and on where she studied Theology, English and Film. Not being satisfied with college, Love moved to Anchorage, Alaska reverting back to stripping to support herself. Along with Love's childhood, her adult love life was full of tragedy and failure. Her most known relationship was with Nirvana lead singer, Kurt Cobain. Sadly, their life together ended abruptly after Cobain committed suicide by a self-inflicted gunshot in their home. She has struggled with drug and alcohol abuse for majority of her life, including opiates and cocaine. Love has made several public appearances intoxicated, battled with drug-related arrests and continued probation violations. She was forced into a lockdown rehab center and since claims to be sober. Within the past year, Love has signed a book deal with William Morrow and Company and concentrated on her recent debuted art show in New York featuring over forty of her own personal drawings.
5. Britney Jean Spears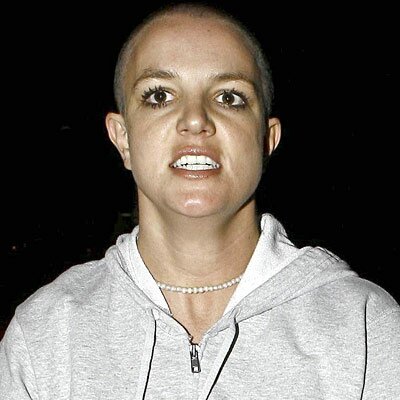 Southern girl Britney Spears began her career performing as a child in stage productions and television shows. She released her first album in 1999, Baby One More Time, which ranked as the best-selling album for a teenage solo artist. After her first two albums she was honored with the title of "Princess of Pop" and "Queen of Pop". In 2001 she began her movie career starring in the film Crossroads. Brittany has received numerous awards: Grammy Award, 6 MTV Video Music Awards, 9 Billboard Music Awards and a star on the Hollywood Walk of Fame. Aside from her music fame, Brittney has a hit perfume line and beauty care products. Her rollercoaster relationship with Kevin Federline led her to legal proceedings and mental breakdowns. Britney and Kevin have two children together, Sean Preston and Jayden James. During this short relationship, Britney battled with children services due to carelessly driving with her firstborn son on her lap. Spears divorced Federline in July 2007 and agreed to joint custody of their children. Following the divorce, Britney shaved her head, admitted herself in several different rehab centers and stated she "truly hit rock bottom". Her battle for her children continued as she had encounters with the police due to custody issues as Spears appeared to be under the influence of an illicit substance, eventually being hospitalized to a psychiatric ward. Spears has posed nude, offended major charity agencies, and even flashed her personal "goodies" in front of the paparazzi. Currently, Britney is engaged to Jason Trawick, her former agent, and announced that during 2012 she will be taking some time off.
4. Lindsay Lohan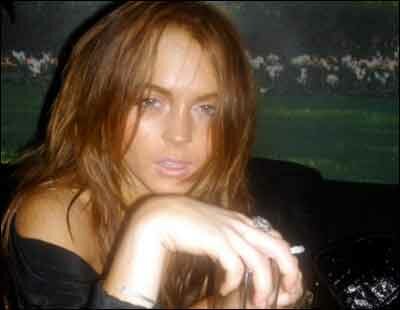 Beginning her career as a child fashion model, Lindsay Lohan has grown into an established actress and recording artist. Lindsay has starred in top films such as the 1998 remake of The Parent Trap, Freaky Friday, Mean Girls and Ugly Betty. Her first album debut, Speak, was released in 2004 followed by A Little More Personal (Raw) in 2005. Lindsay also has a clothing line with her brand name being named in reference to her huge admiration to, ironically, Marilyn Monroe, 6126, which is Monroe's birthday. Despite all the accomplishments, it has not stopped her from getting two driving under the influence (DUI) charges and visits to three different rehabilitation centers: Betty Ford Rehab Center, Wonderland Center and Promise Treatment Center. Lindsay has battled alcohol and drug addiction for several years. Lindsay's legal troubles started in approximately 2005 when a personal injury suit was filed against her following a traffic accident the year before. Later in 2005 Lohan was treated for injuries after a couple car accidents, which she was at fault. 2007 started her spree of DUI's landing her in jail and rehab centers multiple times. During these incidents she was also charged with driving on a suspended license and possession of narcotics. Because of her neurotic behavior, she has served time in jail, been place on probation, spent time in rehabilitation centers, paid hundreds of dollars in fines on top of posting thousands of dollars for bail and even been asked to leave the film of "The Other Side" because she is not "bankable".
3. William Gary Busey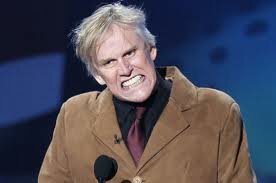 Academy Award nominated Gary Busey began his career appearing on local television shows. Busey went on furthering his acting career by starring in big hit movies like The Buddy Holly Story, Predator 2, Rookie of the Year, Under Siege, Point Break and Black Sheep. He made appearance on the HBO series show Entourage and did voice characters on The Simpsons and Grand Theft Auto. In 1988 Busey was severely injured in a motorcycle accident leaving him with a fractured skull and suffered permanent brain damage due to not wearing a helmet. Gary joined the second season of Celebrity Rehab with Dr. Drew in 2008. Due to his irrational and explosive behavior, he was to be a mentor on the show but it turned into treatment. This treatment stemmed from numerous events: brain damage from the accident causing Busey to speak and act impulsively, domestic violence and drug abuse (cocaine and GHB). Over the years he had several arrest incidents due to accusations of pushing a stewardess on a flight to Las Vegas, spousal abuse, and being late for spousal support court. It is documented that this well-known super star recently filed for Chapter 7 bankruptcy for a debt of $500,000 to $1,000,000.
2. Charlie Sheen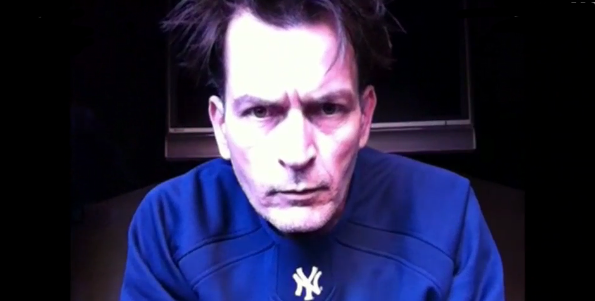 Carlos Irwin Estevez, or better known by his stage name Charlie Sheen, was born September 3, 1965 to actor Martin Sheen. Charlie has starred in major films such as Major League, Hot Shots, Scary Movie 3 and 4, Platoon and Wall Street. He also expanded his acting career to holding roles on the sitcoms Spin City and Two and a Half Men. As of 2010 Sheen, earning $1.8 million per episode of Two and a Half Men was the highest paid actor on TV. Unfortunately, despite all of his millions, Sheen makes headlines more these days because of reports of drug and alcohol abuse, marital problems and even allegations of domestic violence. Charlie has had numerous failed marriages & relationships. He was engaged to Kelly Preston, and that relationship ended shortly after he "accidentally" shot Preston in the arm. His two daughters, Sam and Lola Sheen, are with former wife Denise Richards. This marriage ended due to Sheen's use of drugs and alcohol and threats of violence. Wife, Brooke Mueller, gave birth to their twin sons, Bob and Max. Mueller obtained a restraining order against Sheen saying that she "is concerned that he is currently insane". On March 7, 2011 Charlie Sheen was dismissed from his role on Two and a Half Men. Following this particular incident in Sheen's life, he experienced a total meltdown, which was highly publicized on TV and YouTube. Making an attempt to bounce back, Sheen went on tour and has started up a new business line of electronic cigarettes that highlight his smirk on the label.
1. Mel Colm-Cille Gerard Gibson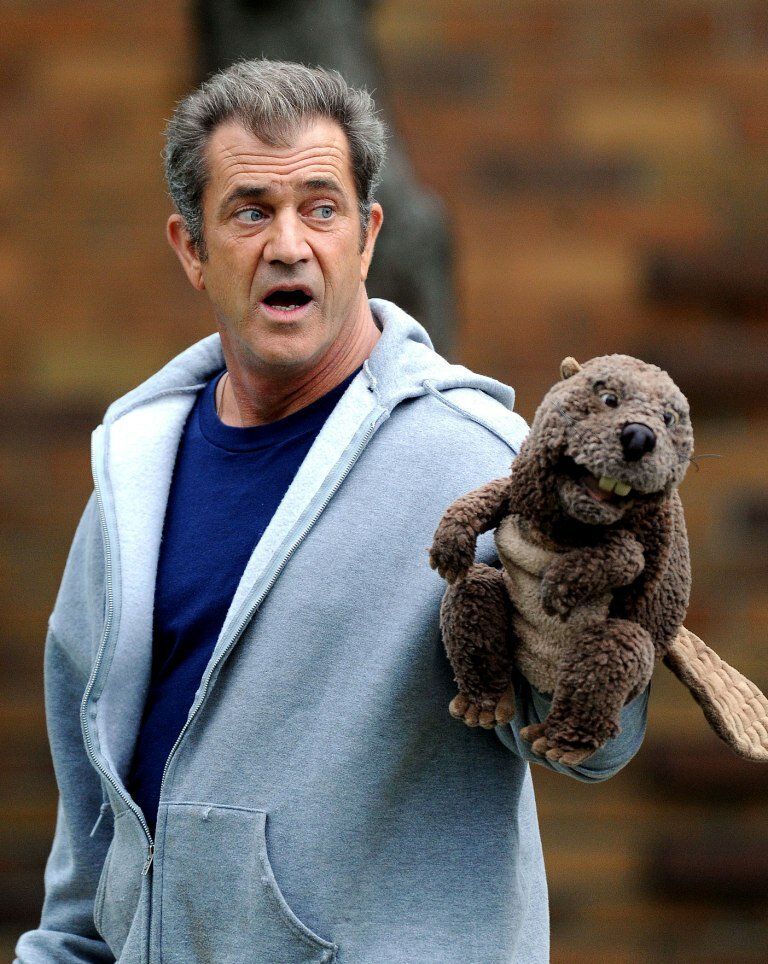 Mel Gibson, named after Irish saints, is an established actor, film director, producer and screenwriter with an edge, to say the least, and definitely has not lived up to his saintly names. Some of his starring roles were in the Mad Max and Lethal Weapon series, Braveheart, What Women Want, We Were Soldiers, Signs and The Passion of the Christ. Mel met Robyn Denise Moore in the 70s, married in June 1980 and went on to have a family: one daughter, six sons and several grandchildren. This power couple has donated millions to various charities such as Healing the Children, Mending Kids and NIDA. After Gibson was arrested in 2011 for drunk driving, the couple separated and later divorced due to irreconcilable differences. The Gibson's divorce settlement is said to be the highest in Hollywood history at over $400,000,000 awarded to his ex-wife! Mel also had a relationship with Oksana Grigorieva. The two had a daughter, Lucia, and split less than a year later. Having its fair share of turbulence, the relationship ended with incidents of domestic violence and restraining orders. During interviews Gibson's alcohol consumption has come back and bit him with his words being offensive and derogatory, he later has had to apologize. Mel has had accusations of being sexist and racist, using very explicit and offensive language. Due to his alcohol consumption and bipolar disorder, Mel checked himself into a recovery program for treatment. As for Mel now, well, he is still up to his scandalous & blunt ways, making derogatory comments about others.
Despite being the rich and famous, some people will continue to be out of control. Maybe some of these top stars will clean it up, others have lost themselves, and a one has completely lost the battle and died. Suffering from alcohol, drugs, abuse, mental illness and yes, fame, now you've seen it….the top 10 most disturbed celebrities…and who NOT to idol!