Top 10 Famous Blind People
Suggested by SMS
Of all of the disabilities in the world, blindness can be one of the most difficult ones to deal with. Whether a person is born blind or loses their sight at some later point in their lifetime, the inability to see can make everything a person does more challenging. Of course, challenges are meant to be overcome, and we all admire those who rise above the most difficult challenges. Consider these famous blind people (some of whom we'll bet you didn't even know were blind) and the accomplishments they have added to the world around them…a world they couldn't even see. Your eyesight doesn't need to be 20/20 to see that, although blind, these people had true vision.
10. Marla Runyan

Olympic runner Marla Runyan never let her disability slow her down. Born in 1969 in Santa Maria, California, Runyan has Stargardt's disease, a degenerative eye condition that caused her to become legally blind. A three-time national champion in the women's 5000 meter, Runyan competed in the 1500-meter finals at the 2000 Olympics in Sydney, Australia.
An avid marathon runner with a master's degree in special education, Runyan is a professional motivational speaker, encouraging people to look past barriers and reach their full potential. She said she was inspired to succeed as a young child, after a doctor told her that her blindness would prevent her from achieving success in life.
Runyan also reaches out to children and families dealing with vision loss. "The future is not written and you have control about how you respond to the vision loss," she has said. "Your child will show you what he or she wants to do."
9. Joseph Pulitzer
The namesake for one of the world's most coveted honors was also legally blind. Joseph Pulitzer, of whom the esteemed Pulitzer Prize for journalism, music and literature is named, was born in Mako, Hungary in 1847 and emigrated to the United States in 1864, where he began his reporting career. Pulitzer soon made a segue way into politics, winning a state legislature seat in Missouri. He was known for his hard stance against corruption and illegal gain.
In 1872, he bought the St. Louis Post and later the St. Louis Dispatch, which he combined with the Post. Pulitzer used his political clout and investigative reporting skills to expose illegal lotteries, gambling rings and tax dodgers. In 1883, he bought New York World and worked to expose the seedy underbelly of public government waste and fraud.
During these acquisitions, Pulitzer's eyes were failing him and he was completely blind by 1889. However, he never turned a blind eye to social crimes and continued to be a watch-dog for injustice. Pulitzer died in 1911 and left behind more than $2 million to establish a school of journalism at New York's Columbia University. In his honor, the Pulitzer Prizes – which are considered the top national honor for music, literature and journalism – are awarded every year.
8. Andrea Bocelli

He's one of the world's most famous opera singers, and he's totally blind. Andrea Bocelli is a man that overcame many odds to become a household name worldwide. Born in 1958 in Lajatico, Italy, Bocelli went blind at age 12, when a blow to his head during a soccer game further complicated his congenital glaucoma.
Though he is known for his angelic and soaring opera tenor, Bocelli did not find a career in music until later in life. He worked for years as a lawyer and practiced his "hobby" of singing in piano bars and parties on weekends. A talent scout happened to hear him sing at a party he attended and signed him to a recording deal.
Andrea has worked with the famous Luciano Pavarotti and Sarah Brightman, and has sung for the Pope. He is best known for his sweet songs, such as "Con Te Partirò", a duet with Sarah Brightman and has released several multi-platinum albums throughout Europe and the United States.
Bocelli's velvety voice and inspiring personality have won him fans worldwide. "All that counts in life is intention," he is quoted as saying. "You have to persevere, you have to insist."
7. Claude Monet

Claude Monet is one of art's most important and influential figures and the leader of the Impressionist movement. Born in Paris in 1840, Monet was a rebel from an early age, preferring to spend his time outside, sketching nature, rather than being confined to a classroom. He later enrolled at the famed art school, Academie Suisse, where he began to explore his craft of painting landscapes. In Paris, Monet befriended several like-minded artists, including Pisarro and Renoir, who became a part of the Impressionist movement, which was a type of painting that stressed light, movement and emotion over realism.
Monet's style used complex short brush strokes and dots of contrasting color that, when viewed up close, looked chaotic. When viewed far away, however, the large scale painting looked like a beautiful soft-focus image. His most famous works include "Water Lilies" and "Sunflowers." Many critics wondered how Monet's eyesight – severely compromised by severe cataracts – had impacted his work and style. Monet died in 1926. His paintings, most worth millions each, hang in prestigious museums throughout the world, including Paris' Louvre and the Metropolitan Museum of Art in New York City.
6. Harriet Tubman

She led hundreds of slaves out of darkness, even though she lived in partial darkness herself: Harriet Tubman was a true American hero and also partially blind. Tubman was born a slave in 1820 in Dorchester County, Maryland. Sold as a slave as a child, Tubman escaped the South and became a leading abolitionist in the Civil War era.
Tubman helped black slaves escape slavery by establishing the "Underground Railroad," a network of safe houses and locations stretching north where slaves on the run could seek shelter, food and protection from other abolitionists.
Tubman, who was mostly blind due to a cruel head injury she received as a teen when a man lobbed a weight at her head, is estimated to have helped more than 300 fugitive slaves escape their Southern captors and relocate to Canada, where slavery was illegal. She died in 1913 and spent her last two decades caring for sick children and the elderly in her own group home. Throughout her life, Tubman never let her race, or her blindness, make her feel like less of a person. "Don't be pushed by your problems," she once said. "Be led by your dreams."
5. Galileo Galilei

Known as the "Father of Modern Science," Italian scientist and scholar Galileo Galilei was a visionary – even though he was visually impaired. Born in 1564 in Pisa, Italy, Galileo was an inventor and astronomer whose theories on the Earth's place in the universe and laws of motion helped shape modern science as we know it. A prolific inventor, Galileo is credited with inventing the modern telescope, thermometer and the compass.
Galileo was the first person to use a telescope to view the planets and stars. During his viewings, he noted on important fact: it did not appear that the sun and planets orbited the Earth, as it was believed; rather the Earth and planets orbited the sun. His findings forever changed the course of astronomy and got him in trouble with the Catholic Church, which put him on trial for his "crimes" and forced Galileo to confess that he was mistaken in his belief that the Earth was not the center of the universe.
In order to avoid jail, Galileo spent the rest of his life on house arrest in Florence. During this time, his vision began to worsen to the point of blindness due to cataracts and glaucoma. Though nearly blind and confined to his house, Galileo continued to study, invent and write until his death in 1642.
4. Louis Braille
Every blind person who has the power to read can thank one man: Louis Braille. Born in Coupvray, France in 1809, Braille is the inventor of the modern Braille system, which uses a series of raised dot formations to spell letters and words. This allows visually-impaired individuals to use their fingers to "read" books and important signs in public areas.
Braille was blinded at the age of three, after he was hit in the eye by a tool in his father's barn. An infection of the injury took his sight completely. Since few opportunities existed for the blind, Braille's parents encouraged him to attend regular school, where he succeeded by relying on his memory, rather than reading and taking notes. In 1819, Braille received a full scholarship to France's National Institute of Blind Youth, where the teen began to develop a system of embossed symbols, based on a military communication strategy used by soldiers to communicate in the dark.
By age 20, Braille had perfected his six-dot based code and used it to code letters, common words, numbers and scientific symbols. He published these codes and debuted them at the Paris Exposition of Industry in 1834. It took 20 years for Braille to become accepted by the blind world, two years after his death in 1852. Now Braille's code is used worldwide and is considered the official "written language" for the blind.
3. Ray Charles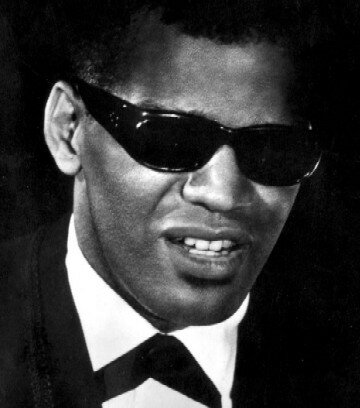 He was one of America's most influential musical performers and paved the way for African Americans in the music industry – and accomplished it all while completely blind. Ray Charles, born in 1930 in Albany, Georgia is a great American songwriter who helped change the face of modern music.
Charles is credited with the early development of soul music, which blends jazz, gospel and rhythm and blues. Born with the visual condition glaucoma, Charles went completely blind by age seven. He attended a special school for the blind, but left at age 15 to pursue his self-taught passion: the piano. A talented singer and songwriter as well, young Ray Charles soon built a following at his small club performances, eventually landing a record deal with Atlantic Records, where he recorded hits such as "I've Got a Woman," "Hit the Road, Jack" and "Georgia on My Mind." Many of his albums went multi-platinum and Charles helped break down racial barriers as one of the first black musicians to hit the mainstream radio waves.
Charles died in 2004, after receiving a total of 13 Grammy Awards, including the Lifetime Achievement Award in 1987. Never one to let his blindness stop him from succeeding, Charles quipped: "I don't know what I'd do if I wasn't able to hear."
2. Stevie Wonder

It's no wonder that Stevie Wonder has thrilled music lovers for decades. Aside from being one of the most talented and prolific singer-songwriters of all time, Wonder has accomplished it all, even though he was born blind. Born Steveland Judkins in 1950 in Saginaw, Michigan and raised Detroit's inner-city, Wonder was a child prodigy, teaching himself to play piano, organ, harmonica and drums at the age of eight. Wonder's blindness was caused by an excess of oxygen in the incubator following his premature birth, but his disability did little to slow him down.
Discovered in 1962 by famed Motown producer Berry Gordy, he was re-named Little Stevie Wonder and released his first recording at the age of 12. His first single, "Uptight (Everything's Alright)" which he performed and wrote made him a rising star. His collaborations with Motown powerhouses like Smokey Robinson, with whom he co-wrote "Tears of a Clown" cemented his image as a great American songwriter. He continued to reach audiences with his hit songs "My Cherie Amour" and "For Once in My Life" and his 1971 album Where I'm Coming From went multi-platinum.
Known for his songs, such as "I Just Called to Say I Love You," Wonder also has an electric stage presence. Wearing dark glasses like his idol, Ray Charles, and sporting full braids, Wonder is an animated and energetic performer known for his signature "bob and weave" dance as he sings and plays piano. With more than 20 successful albums, Wonder was inducted into the Rock and Roll Hall of Fame in 1989 and received the Grammy Award for Lifetime Achievement in 2005.
1. Helen Keller

The most famous visually-impaired person of all time was Helen Keller, a woman who overcame virtually insurmountable obstacles to live not only an ordinary life, but an extraordinary one. Born in 1880 in Tuscumbia, Alabama a childhood illness left Keller deaf and blind at age 18 months. Though her parents were told to place their child in an institution and that she would never be anything close to normal, they fought to give young Helen a chance. Though she made little progress as a young child, Keller's life changed completely at age seven, when she began being tutored by a young teacher, Annie Sullivan.
Through a unique and incredibly patient approach, Sullivan taught Keller not only to speak, but to read Braille, write and play music. Keller's progress astounded family and friends. Keller continued to amaze as she graduated from Radcliffe College, married and began writing the first of numerous published magazine and journal articles. Her book, "The Story of My Life" was a worldwide bestseller and has been published in more than 50 languages.
During her lifetime, Keller traveled the world, met 12 presidents, received several honorary doctorate degrees and countless awards, including the being elected to the Women's Hall of Fame. In 1962, Keller and Sullivan's story was made into an Oscar-winning movie with "The Miracle Worker."
Known for her inspiring speeches about overcoming all obstacles, Keller summed her life up as this: "Character cannot be developed in ease and quiet. Only through experience of trial and suffering can the soul be strengthened, ambition inspired, and success achieved."