Top 10 Famous Exhibitionist
Suggested by SMS
Exhibitionists love to expose themselves to others, especially the parts of their body's that are supposed to be kept private. It's usually the genital areas of the body that are put on display. Generally, women tend to show their buttocks and breasts. Yet, there are some that don't mind sharing a little more with the world every once in a while. Instances of indecent exposure are all too common in the world of superstardom. Age is irrelevant; as there are stars that go decades back that may have started it all!
There are various forms of exhibitionism and they are defined by the act that the individual is carrying out. For example, lifting the skirt to share with the world the fact that one isn't wearing undergarments is called "Anasyrma." There are also the more familiar forms of exhibitionism such streaking and morning. Believe it or not, placing obscene phone calls that consist of making sexual noises and foul language is also a form of exhibitionism when it results in one being sexually stimulated.
Sad to say, some stars are known more for their body parts being constantly displayed more than they are for their actual crafts. Even those who are known simply for who they are and what they have have gained reputations for their partially nude antics and totally bizarre outfits. Being an exhibitionist doesn't always mean that one is flaunting their body parts, some stars like to put their sexuality on display as well.
10. Miley Cyrus
This former child star is all grown up and has no problem showing it all! The star has been busted wearing next to nothing and baring it all at one time or another. She is so comfortable with her exhibitionism that she was the keynote speaker at an event for exhibitionist. True to form, she showed up wearing no undergarments and the paparazzi were happy to share the news.
9. Rihanna

When Rihanna first stepped on to the music scene, all anyone could speak about the pretty girl with the honey brown eyes and teasing Barbadian accent. The sweet faced, innocence may still be there. If it is, it's hidden beneath the naughty girl that is presented to her audience.
As of late, Rihanna's seems to love leather and latex and gives no second thought to showing herself off on stage. The cameras always seem to catch her baring her assets in sheer dresses with little to nothing beneath. With racy magazine covers and interviews admitting that she loves walking on the wild side. Many believe that her recent switch from good girl to bad girl may have been a result of recent difficult events that have taken place in her life.
8. Lady Gaga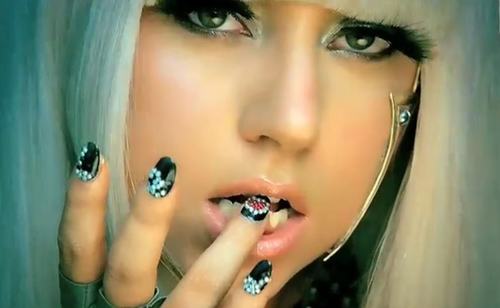 If there is one thing that Lady GaGa isn't, it's shy. The pop loves living for shock value and goes to the necessary lengths to get the results she's after. The stunning blond singer gets a kick out of teasing her viewers with glimpses of breasts and buttocks. She isn't as bad as some of her peers who blatantly show their private parts. She simply shows just enough to garner the title.
Many believe that Lady Gaga's exhibitionism is linked directly to her superstar persona and is used as a marketing ploy. Whatever it is, it gets her the attention that she is after.
7. Britney Spears

Britney Spears in no longer the little girl that's singing about a mistake she has made again, now a days, the things she does are on purpose; especially when it comes to showing skin. There is no denying that the young girl who made catholic skirts sexy for another generation has an issue with keeping herself covered. On stage, Ms. Spears is clad in leather, lace, latex and strings. With cheeks hanging and breasts peeking, there is no shame in her showing it all.
Much like some other stars of her generation, Britney has a penchant for exiting cars and showing the world her lady parts.
6. Kim Kardashian

The simple fact that she gained her fame as a result of a what was supposed to be a personal sex tape, should day enough. Yet since then, Kim Kardashian's perfectly proportioned body has been the object of many photo spreads and near nude outfits. This bosom beauty has no qualms with showing her prized asset. Her rear end is the envy of women around the world and the heart's desire of their husbands.
When in public, Kim may tone it down a bit. But her painted on clothing still allow those looking to see every curve, crease and crevice on her hour glass shaped figure. She knows what she's doing when she takes it off and when she puts it on. In Kim's case, taking it off can really get a career going.
5. Danielle Staub

One of the stars of a poplar reality show, Danielle Staub's exhibitionism led to her being booted from the show. Her past caught up with her when it was found that she not only once went by another name but was also arrested. Shortly after her release from the show, the internet was flooded with a sex tape which Danielle was subsequently blamed for leaking.
It became evident afterwards that Danielle may indeed have a problem. As opposed to doing damage control and attempting to clear up the raunchy past that caught up to her; the star fueled the flames by posting naughty pictures of herself on the internet. Adding to the heat, she accepted a contact as a fully nude dancer at a popular gentleman's club. The deal was nullified when Danielle decided that she should seek counseling.
4. Kendra Wilkinson

Everyone knows that in order to be affiliated with a particular men's magazine and its founder, one of the requirements is that you aren't afraid to take it all off. And although Kendra was never officially aboard as one of the company's stars, she has bared it all; over and over again. Whether donning her own skin or covered in paint, nudity is not a problem for the beautiful blonde.
Little controversy arose when a video of Kendra with an unidentified man surfaced on the World Wide Web. It was almost as if it were expected. Kendra's wild days have slowed down since she has parted ways with her adopted family and has settled into married life as a mother.
3. Paris Hilton

This wealthy socialite has worked hard to earn her title as an exhibitionist…over and over again. The fact that she constantly refuses to wear underwear and then insists that everyone in the world is made aware of it has solidified her spot amongst others. Ms. Hilton was already rich when a sex tape featuring her in a starring role was leaked to the media. Yet, she wasn't the household name that she is now until her female parts were put on public display. Paris has also been the victim of nude photos being leaked to the public as well.
Having money doesn't take away her urge to expose herself to others; it just ensures that she is looking good when she does it. There have been photos of Paris lifting ball dresses as she "walked". There can be no way that someone is unaware that she is mooning the crowd. Which would also lead one to believe that there is no way she doesn't realize that she's "smiling" at the crowd when she exits a car, sans panties.
2. Cher

One of the best to ever do it and probably the inspiration behind some of the fetish like outfits that today's young stars are sporting is Cher. The other half of the classic duo, Sonny and Cher, she has worn some outfits that would put Lady Gaga, Britney Spears and Jenny McCarthy all to shame. This old school diva is not ashamed to show her butt…literally. Cher owns more sheer dresses, leather strap body suits and shoe lace designed outfits than any one person should. And she has always worn them well. When it comes to letting it all hang out, Cher will always be a name that is mentioned.
1. Madonna

This singer's name will always invoke thoughts of exhibitionism. The singer has been showing her parts for decades and even at her present age, she will still bare it all. Madonna has graced the cover of many magazines in the buff, in the semi-buff and in the may-as-well-be-buff. The freedom she feels in showing her body today is the same freedom she had in doing it so many years ago.
As you can see, being an exhibitionist may be a part of who some famous people are or a part of who they need to present to the world. Either way, celebrities seem to be fine with showing it all. Even those who are a bit more on the conservative side find a way to tease us with their secret. One would have to admit, feeling like you know some celebrities on a personal level isn't without merit.