Top 10 Mommy Dearest: Mothers Who Kill Their Children
Suggested by SMS
What makes a mother kill her children? How can a woman find it in her heart to destroy someone that she is supposed to love, with every fiber of her being? When does a mother's mind stop knowing the difference between right in wrong, when it comes to harming what has come from her own flesh and blood? It is unnatural for a parent to bury their child, so how unnatural is it for them to kill their offspring?
There is an old saying in regards to female dogs that reject their pups; "Any bitch can have a baby but that don't make it a mother." This same adage can be associated with multiple women, who have come before the courts with murder charges over their heads. Their victims are the innocent children that they have given birth to. Some of the stories are horrendous; while all of them are unbelievable. Here are 10 women who will forever be remembered for the murdering monsters that they truly are:
10. China Arnold

China Arnold was spared the death penalty in Ohio but sentenced to life, without the chance of parole. Arnold was convicted of murder after placing her 3 week old daughter in a microwave, following a fight about paternity with her intoxicated boyfriend.
The young mother placed the child in the appliance and turned it on. It was determined by medical experts that she was in the oven for more than 2 minutes, raising her body temperature to nearly 110 degrees.
9. Madeline Carmichael

(A picture of Madeline was not available. The woman in the picture is the murdered child's older sister, Sabrina. She is holding the book which tells Latanisha's story.)
In 1999, at age 61, Madeline Carmichael found herself on trial for the murder of her daughter, Latanisha. The 3 year old had been dead for 20 years. The story unfolded when the toddler's twin brother began to ask questions in regards to a sister that he remembered having. Upon speaking to his older sibling, Sabrina, his memories were confirmed. Yet, he also discovered that his twin had been beaten to death by his mother and brother in 1979.
The siblings took their astonishing story to authorities, who at first had a hard time believing it. After conducting some in depth research, it became evident that the child did exist but had suddenly fallen off of the face of the Earth. Armed with a search warrant, police entered the home of Madeline Carmichael; in search of a trunk that the living twin remembered getting in trouble for touching. Inside, were the mummified remains of 3 year old Latanisha Carmichael. Her body had moved with the family for 20 years. Madeline Carmichael didn't serve much of her life sentence. She died of cancer shortly after being incarcerated.
8. Melissa Drexler

Melissa Drexler will forever be known as the "Prom Mom". In June of 1997, the teenage girl attended her high school senior prom; where she gave birth to a baby in a toilet of the ladies room. She cut the cord with the sharp edge of a feminine product dispenser, swaddled the newborn in garbage bags and put the baby in the trash. Then, she went back to the prom.
The teen was able to keep her pregnancy a secret for the entire 9 months. No one suspected a thing since her small frame showed no signs. However, the jig was up when the janitor found the baby after reports of blood led him on a cleaning mission in the ladies room. Attempts to revive the infant were abandoned after two hours.
Drexler was charged with murder but managed a plea that allowed her to plead guilty to aggravated manslaughter. As a result, in 1998 she was sentenced to the maximum 15 years. Yet, after serving just over three years, she was released on parole.
7. Darlie Lynn Routier

Darlie Lynn Routier is a Texas woman that is sitting on death row; waiting to die by lethal injection. Accused by authorities for the stabbing deaths of 2 of her 3 children, she was only convicted of the death of one. In the beginning, the mother was adamant that an intruder came into her family home and attacked her and her three children. However, forensics showed that there was something fishy about her story.
The children were covered in wounds that deeply penetrated their bodies. However, the wounds on Routier were superficial. It was later found that they were self-inflicted. The crime scene had also been cleaned. Darlie Routier never confessed to murdering her children, yet the evidence against her was staggering. In 2010, she was sentenced to death by lethal injection. Her family and friends still promote her innocence and are fighting for an appeal.
6. Diane Downs

Elizabeth Diane Downs was convicted and sentenced to life in prison in 1984. This was her punishment for the shootings and attempted murders of her three children. One of them died as a result of her actions. At the time of the incident, Downs told authorities that there was an attempted carjack. Of course, this later proved to be a lie. In 1987, Downs escaped prison and was on the run for a short period of time before being recaptured.
In the spring of 1983, Diane Downs shot her three children, with all intentions of killing them. To make the story of the attempted carjacking more realistic, she went so far as to shoot herself in the arm. However, witnesses saw Downs' car as she drove the children to hospital in an attempt to save them. She was so desperate for help that she drove a mere 5 miles per hour. Her calm demeanor at the hospital raised red flags. And it all came to a head when one of her surviving children, unable to speak after suffering a stroke, expressed fear and an increased heart rate when Downs came to visit her. Forensic evidence didn't support Diane's story either. She was arrested 9 months after the shooting.
5. Fionna Donnison

The UK was rocked when 45 year old Fionna Donnison showed up in front of local authorities to confess that she had killed her two small children and was turning herself in. Police in Heathfied, Sussex thought that the woman was intoxicated when she arrived at their offices. Suspicion was raised when they noticed the cuts on her wrists.
Fionna Donnison smothered her three year old son and two year old daughter, as a way to pay their father back for leaving her. When he began another relationship with an old school friend, Donnison showed up at the lover's home to warn that he would never see the children again. She suffocated the children, placed them each in a duffel bag and placed them in the trunk of her car. She turned herself in later on that evening.
After her incarceration, it came to light that Fionna may have also been the cause of the death of the couple's first child, Mia, when the infant was nine months old. It was originally believed that the child died from what is known as "cot death"; the equivalent of America's SIDS. After re-examination, Fionna Donnison was charged with the death of the infant, in addition to the other 2 deaths. It was alleged that to strike back at her lover for attending a function for his ex-wife, Fionna smothered the child. A judge later dismissed the additional charges. Donnison was convicted of 2 counts of murder and sentenced to 32 years in jail.
4. Theresa Riggi

Scotland shocked when 47 year old mother, Theresa Riggi, plead guilty to culpable homicide  in the case brought against her in the death of her 3 children. The original charge was murder. The body of her 8 year old twins and 5 year old daughter were found in her home in 2010, after what was thought to be a gas explosion in the apartment. The problem was that the bodies were covered in stab wounds.
While speaking with her estranged husband, 48 hours before the murders, Theresa was made aware of his intentions to seek custody of the children. She reportedly told him that he should say goodbye. She stabbed each child 8 times and then threw herself off of the balcony, with all intentions of killing herself. Riggi was sentenced to 18 years, which was reduced by two years due to her entering an early plea.
3. Susan Smith

In July 1995, Susan Smith was sentenced to life in prison. The charge was murder. The victims were her 3 year old and 14 month old sons.
On October 24th 1994, the 24 year old mother put the boys in the car and strapped them into their car seats. She would later confess that she was having suicidal thoughts and her first thought was to travel to her mother's home. However, she changed her mind somewhere along the drive. She detoured and drove to the John D. Long Lake.
When Susan arrived at the lake, she positioned the car on the lake's ramp. She then exited the car, leaving her two small children inside. She put the care in drive, disengaged the brakes and watched as her sleeping children drifted away and the car disappeared.
Susan ran to a nearby home and concocted a story about an African American man abducting her children. She stuck to her original story for more than a week. Unbelievably, Smith's story unraveled behind a simple lie about a red light. She reported that the car was stopped at a red light when the carjacking and abduction took place but there were no other cars around to bear witnesses. What Susan didn't know was that the light stayed green unless it was tripped by a vehicle in the crosswalk. On November 3rd 1994, Smith confessed to killing her sons and gave authorities the location of her car. The boys were still in their car seats.
2. Andrea Yates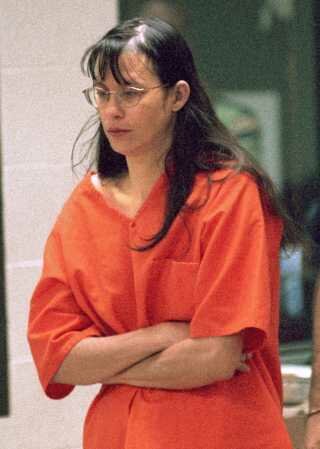 In 2002, Andrea Pia Yates was convicted of capital murder and sentenced to life in the 2001 drowning deaths of her five children. However, that conviction was overturned in 2005, after a major outcry in regards to the woman's mental state at the time of the murders.  As a result of the appeal, Yates was tried again and in 2006, she was found not guilty by reason of insanity. Her defense relied on the effects of sever postpartum depression and psychosis. Andrea was committed to a high security mental facility in Texas. In 2007, she was transferred to a low security facility.
Andrea Yates never denied drowning her children. In fact, she admitted to thinking of committing the crime 2 years prior to actually doing it. Facts that were revealed about the day the deaths took place made it hard for many to believe that the mother wasn't fully aware of what she was about to do; like the fact that she locked up the family dog before killing the children. Yates will spend the rest of her life in mental facilities, which should make it easy to prevent her desire to have more children.
1. Marybeth Tinning

Marybeth Tinning (Roe) killed nine of her children, over the course of more than a decade. She was sentenced to 20 to life sentence in 1987. Ironically, it was only after being charged and convicted in the death of only one of those children.
Between 1965 and 1970, Marybeth had 2 children with her husband, Joe. In 1971, she gave birth to Jennifer, her third child; who died a few weeks later without ever leaving the hospital. A month later, in January of 1972, Marybeth rushed her 2 year old son to the hospital with claims he had suffered a seizure. Finding nothing wrong, doctors sent the boy home. Only for him to return to the emergency room later on the same night. Except this time he was dead.
Over the next 13 years, this pattern would be repeated. Tinning's children would be rushed to the hospital on a regular basis, none of them ever surviving. It wasn't until the death of her ninth child, in 1985 that any suspicions were aroused around the fact that Tinning was always alone when the deaths of her children occurred. After an investigation, Marybeth Tinning confessed to smothering some of her children. She tried to recant the statement but it was too late. Since her incarceration, Tinning has been denied parole multiple times. She will try again in 2013.
As you can see, unfortunately, it was very easy for some women to commit the ultimate crime. Cold and callous, none of these women thought twice about the actions that they took. In fact, the only time they thought again was to calculate in-depth lies and deceit, to make sure that they had a story that would cover their evil deeds. It will always boggle the mind of anyone sane when a mother kills her child. Common sense will surely tell any thinking person that something is wrong with a person who can commit such a heinous crime. The problem is, common sense isn't all too common. If it were, this list wouldn't be here.