Top 10 Tragic Love Stories in Film and Literature
Suggested by SMS
For some reason or another, most of us are a sucker for a love story, and of those, we tend to gravitate to the sad or tragic ones.
A good tear jerker strikes a chord within most of use, reminding us of the fleeting nature of our lives, and the importance of love for all of us. Usually, the characters in these books and movies have both dark and light aspects to their personalities, and although we may disapprove of their behavior in specific circumstances, the very human nature of their actions strikes a chord within most of us.
Often, the themes of illness and dying reinforce the belief that true love is worth sacrificing everything, although many of these stories also caution against becoming involved in love triangles or illicit affairs.
Whether on film, in literature, or in real life, there have been many enduring tales of love lost, however, it's those that make it onto film, or the pages of a book, that are best remembered, and here is our list of the top 10:
10. Wuthering Heights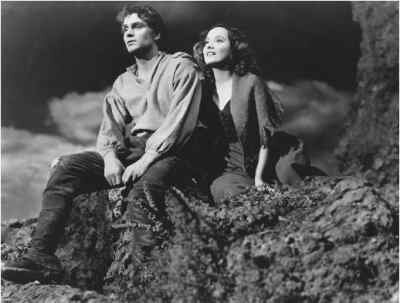 The 1847 novel by Emily Bronte is surely worthy of inclusion on any list of sad love stories. Following a life where the protagonists, Heathcliff and Catherine's love for each other was thwarted at every turn, by circumstance and the people around them, Catherine dies, and their romance is never made real in life.
Set in Yorkshire, on the wind swept moors, the two doomed lovers meet first as children, when Catherine's kindly father takes in the orphaned Heathcliff. When the old man dies however, Catherine's brother takes over the estate, and forces Heathcliff to work as a laborer. During this time, Catherine meets Edgar Linton, and a few years later, they marry, however, as she is discussing the marriage with Nelly, the maid, Heathcliff overhears a portion of the conversation, where she states that marrying him would be degrading. He leaves, furious.
Catherine becomes ill after hearing of his desertion of her, but recovers, and eventually marries Edgar. Years later, Heathcliff returns, claims ownership of Wuthering Heights and marries Isabella, Edgar's sister. Again Catherine becomes ill, and the two make their peace just hours before her death, finally admitting that they love each other.
Although they never managed to come together in life, however, the story of their ghosts walking hand in hand in the countryside adds a poignance to the ending.
Adapted into an academy nominated movie starring Sir Lawrence Olivier in 1939, and the subject of various other plays, music and more since then, this timeless tale of forbidden and thwarted love will surely endure for many more years to come.
9. Ghost

From the gothic and supernaturally heavy masterpiece that was Wuthering heights, it's a short leap to 1990's Oscar winner. Ghost focused on the tale of Sam Wheat, killed during a failed mugging, and his inability to relinquish his love for Molly Jensen. Conspiracy and hidden agendas are revealed when it becomes clear that the murder was at least partly the fault of Sam's co worker at the bank, now pursuing Molly.
Sam approaches a medium, Oda Mae Brown, played to great effect by Whoopi Goldberg, thwarts his coworkers plot, and saves Molly. For those who have seen this 1990's tear jerker, the song Unchained Melody will have particular significance, and the ending, where Sam, finally free from his earthly bounds, ascends to heaven, will cause even the most stoic a sniffle or two.
8. Gone With the Wind

This sweeping tale of the American South was first penned in 1936, and imortalised in film a mere three years later. Who can ever forget Scarlett O'Hara, played by the beautiful Vivien Leigh, or the dashing Rhett Butler, made flesh by Clarke Gable with such style.
The tale of an heiress from the South, entwined with the family estate, Tara, and her various romances, marriages and losses, which included a miscarriage and losing a child.
Scarlett O'Hara strikes one as the typical spoilt rich girl, playing with the affections of men, attempting to woo Ashley Wilkes, in love with her cousin, and blithely committing many other sins.
Her comeuppance, however, eventually comes when she realizes that she is truly in love with Rhett, however, that he has moved on. Hence the famous line: "Frankly my dear, I don't give a damn." If ever there was a cautionary tale about taking the feelings of others into account, this is it, but the shear number and magnitude of losses that Scarlett suffers, and her own involvement in those losses make it a truly tragic story.
7. Titanic

A big jump from the old South, Titanic nonetheless told a tragic love story that had millions of viewers in tears. The story of that doomed ship, and two passengers, the wealthy, privileged Rose, and the penniless Jack, the tale took us all on a roller coaster, from watching their love blossom in spite of societal convention, to the eventual sinking of the ship, and Jack's sacrifice of his own life.
Deserving of its widespread success, the story was truly a modern day contender. The same type of sweeping epic that old Hollywood was so famous for.
6. Love Story

Another more modern film, this one from 1970, Ali McGraw and Ryan O'Neill had audiences ever since in tears as Jennifer Cavelleri and Oliver Barrett IV.
The tale begins with the arrival of the wealthy "old money" Oliver at Harvard, and his chance meeting with Jenniffer, a working class student at Radcliffe College. Despite their families disapproval of their love, they decide to marry after college, and once Oliver has secured a good job with a top law firm, and it's when they are trying to start a family that Oliver learns that Jennifer is terminally ill.
Oliver hides the illness from her, on her doctor's advice, but eventually, she discovers that she has cancer, and begins treatment. When the bills become too much for Oliver, he lies to his father to get the money to continue her treatment. In spite of all his efforts though, Jennifer finally succumbs to her disease, following an emotional scene in the hospital. If any story is enough to remind one of the fleeting nature of human life, this one should be!
5. Casablanca

Not only one of the top sad love stories, but one of the best movies of all time, of any genre, Casablanca, as the name suggests, is set in the city of Casablanca in Northern Africa, where Rick Blaine owns a bar called Rick's Place, while secretly supporting the anti Nazi movement, it being during the second World War.
When his former lover, Ilsa Lund, and her husband, Victor Laszlo arrive, they are in desperate need of a means to return to America, a means which Rick has, in the form of paperwork, however, having been scorned by Lund, he refuses to part with them.
After much soul searching, and when the truth surrounding her abandonment of Rick emerges, he eventually relents, allowing his lover, with whom he is still desperately in love, a feeling she reciprocates, to escape the Nazi's. Humphrey Bogart and Ingrid Bergman truly brought their characters to life, and the story of selflessness, on many levels, is sure to leave you reaching for the Kleenex.
4. A Walk to Remember

A Walk to Remember started as a 1999 novel set in the 1950's, but ended up a 2002 movie set in the present. Either one is guaranteed to bring tears to even the most cynical eyes.
A popular, if a little rebellious, high school boy named Landon Carter is given the choice between expulsion and various after school activities, including performing in the school play, and tutoring disadvantaged kids. He accepts the latter, which leads him to meet Jamie Sullivan, the preachers daughter, who is shy, quiet and old fashioned.
Slowly a friendship develops between the two, as they practice their lines for the play, and, following her appearance in that play, looking beautiful, and giving a stellar performance, they fall in love. However, the cruel hand of fate has already intervened, and Jamie eventually reveals to Landon that she has incurable leukeamia.
In spite of this, or maybe because of it, he sets about making the dreams on her list of things to do before she dies come true, culminating with their wedding in the same chapel her mother was married in, before she dies, leaving him a changed man.
3. West Side Story

Based on the Shakespearian classic, Romeo and Juliet, this tale revolves around two warring gangs in New York, the Jets and the Sharks, and two kids, who are members of the opposing gangs, Tony and Maria.
Like their centuries old compatriots, they are forced to try and keep their love a secret, but the war between the gangs escalates, leading to Tony killing a rival, Maria's brother.When Maria discovers the murder, she is distraught, but eventually agrees to flee with Tony, getting away from the gangs. As she waits for him, Anita, her brother's girlfriend, tries to convince her to leave Tony, but eventually agrees to take a message to him instead.
Anita, however, is attacked by the Jets, and lies, telling them that Maria's relationship with Tony was discovered, and that she has been killed. Tony leaves to find Chino, her killer, and is shot, dying in Maria's arms. As with Shakespeare's classic, this is a cautionary tale, designed to show people that love should not be tethered by class, affiliation or other external factors, and warning of the consequences when it is.
2. Anna Karenina

Leo Tolstoy, the Russian artist in literature who brought the world War and Peace, also brought the tragic tale of Anna Karenina, who arrives in Moscow, to be met by Count Vronsky at the train station. The count promptly falls in love with the young woman.
While at the station however, a peasant falls in front of the train, being killed as it speeds into the station.
Eventually, despite Vronsky's unspoken arrangement with another society lady, Kitty, Anna succumbs to the count's attentions. Their affair results in a pregnancy, and when Vronsky's horse falters and falls during a steeplechase, the woman is distraught. Her husband is present at the race, and notices her distress, rebuking her for her behavior.
Anna's cuckolded husband decides to request a divorce, an act that in Russia at the time required proof of an affair, but is dissuaded when he hears that Anna is near dying following the birth of her and Vronsky's child. At her bedside, he forgives Vronsky for the affair. He proceeds to accept the child, Vronsky's daughter, Annie, and welcome Anna back into his household. She continues to pine for her lover however, and becomes increasingly jealous.
Vronsky eventually ends the affair, or seems to, and Russian society shuns her, leading her into insecurity and depression, and she eventually kills herself by throwing herself in front of a train, however, Vronsky had merely been shamed by Karenin, Anna's husband's forgiveness of him for the affair, and was still in love with Anna.
After her suicide, he volunteers for a war that there is no hope of returning from, leaving Annie, his daughter with Anna, in the care of Karenin, her husband.
This tragic tale serves as a warning that the path to true love is not always easy, and often rocky, and that a scorned lover may resort to desperate measures in their grief. As with most great tragic love stories, there are many warnings, that most would do well to heed.
1. Romeo and Juliet

Surely, when listing tragic romances, the story of Shakespeare's star crossed lovers has to come in at number one, having endured for centuries, to be made into countless plays, movies and adaptations.
The story of two warring families, the Montagues and the Capulets, from different classes, this is the tale of two children of those families, the street wise Romeo and the wealthy Juliet.
After meeting, the two begin an illicit romance, knowing that if they were discovered, their families would disapprove. When fate conspires against them, Juliet decides to fake her death, only to be discovered, comatose, by Romeo, who promptly takes his own life. When Juliet awakes, to find Romeo, dead alongside her, she kills herself with his dagger.
A cautionary tale, as much as a tragic romance, this story reinforces the idea that true love will conquer all, and that even if only in death, sometimes, no matter what, lovers will be together. Had the families of these two people taken a step back, they could have averted the tragedy.